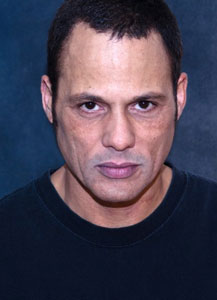 On the FX drama, Sons of Anarchy, David Labrava stars as Happy, a brutal enforcer and one of the most feared members of SAMCRO.
Labrava has been working on the show since the beginning – but not as an actor; he was a technical adviser for before he was cast. And to add to his eclectic resume, he recently co-wrote episode 10 of the show, 'Hands', alongside Chris Collins and series creator Kurt Sutter.
Labrava talked to me bout how he went from technical adviser to cast member, how acting found him and how he's moving towards directing.
Sons of Anarchy airs on Tuesdays at 10pm on FX
For more Sons of Anarchy, check out our interviews with Rockmond Dunbar, Theo Rossi, Winter Ave Zoli and Kristen Renton, Emilio Rivera and Christopher Douglas Reed.

I was reading your bio and it seems like you are a heavy writer.  What do you prefer to do more, write or act or direct?
David Labrava: I love writing.  I think writing and directing go hand in hand.  I've been writing and getting published since 1990 and I kind of fell into the acting, which is a lot, a lot of fun.  I enjoy acting, but I'm definitely pushing towards directing.  Did you have any formal training acting or how did this role come about for you?
David Labrava: I got hired to be the technical advisor and when Kurt [Sutter] came up to my area to get some technical advice on the motorcycle club world, I showed him that I was the man for job. And I wrote scripts and I asked him to let me have a chance when he cast the show.  I got cast on the show and then he gave me a real chance to write and here I am. 
Did you want always want to be an actor or was this just an opportunity that came about?
David Labrava: I actually, it seems like the Hollywood thing sort of found me a couple times because I wasn't living here trying to do this at all.  I'm an artist.  I'm a tatoo artist and I went to school to paint and that sort of thing.  I started writing and getting published and I have to say I think every American kid grows up dreaming about being in the movies.  That's completely normal for us. 
But I mostly wanted to be a writer in my life and then I got taught the script writing program and I got a chance to act and I have to say the acting is extremely fun, extremely vital.  It's an incredible crew that I work with.  They all have a great appreciation for film.  Those people that you see, we do movie trivia all day long.  Like [Ron Perlman] knows all the way to black and white. 
I enjoy the acting.  I didn't plan on that.  It sort of fell into me and I'm having a lot of fun with it, but I'm definitely moving towards directing because I'm naturally a writer.  And I think a good director edits, writes, has acted a little bit.  He's done a little bit of everything and that's what I'm trying to do. 
Would you star in any of the scripts you write or direct? 
David Labrava: I sold my own show to the network last year, which now we're shopping around to cable and FX is very good to me to allow me to do that.  I also finished a feature film with a sequel we are shopping around now.  I might put myself in a cameo in any of those movies, but mostly I want to be behind the camera.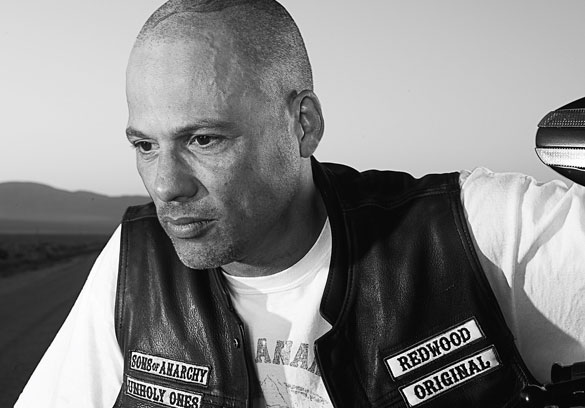 Tell us a bit about 'Happy's' back story that made him a natural in the killing department or do you think this is something he became good at?
David Labrava: I remember when Kurt [Sutter] explained to me why I was called 'Happy.'  "Why didn't you call me 'Psycho'?"  He's like, "No, because your name is 'Happy,' you're an assassin for the club and you're never happy.  It's like ironic." 
Happy' is just soldier.  I look at 'Happy,' he's got his aunt and he has his mom, but the real family to 'Happy' is that club.  Those are his brothers.  That's his little world.  He's there to do whatever.  He is an assassin for the club. 
This is s a TV show, you know what I mean, and his character is this guy who's like, he's ready to do whatever for the club, whatever it takes.  He's gotten very good at it through time, that's why he does lines like I'll do this and I'll do it very well and they know he will.  Like in the beginning when 'Clay' said, these guys are not killers.  That's why they're having problems with the cartel.  Like gun dealing is the extent of their ambitiousness and that's why they have a guy like 'Happy.'  Although 'Clay' has really emerged as evil personified for sure he has.  It's 'Happy's' calling to do whatever it takes that the club needs, which is a lot of time kill people. 
You're working with some great, great actors.  Since you are new at it, how have they helped you grow as an actor or was it mostly you just kind of learned by watching them? 
David Labrava: Both, I learn by watching anything I do and these guys are wonderful, Tommy [Flanagan], Ron [Perlman], Charlie [Hunnam], all of them.  These people have extended themselves.  It's exactly as I told Kurt [Sutter] when I asked him to let me have a shot at being on the show, I said I write.  That means I can see.  When he writes and he acts, he does everything, actually, but if you write and people ask me what acting school did I go to, I say I went to the school of let's pretend.  It started when I was nine. 
Tommy [Flanagan], Charlie [Hunnam], these guys have helped me extensively.  These are great actors.  They have practiced their craft to the fullest and they're great at it and they give me great input and I'm so very appreciative.