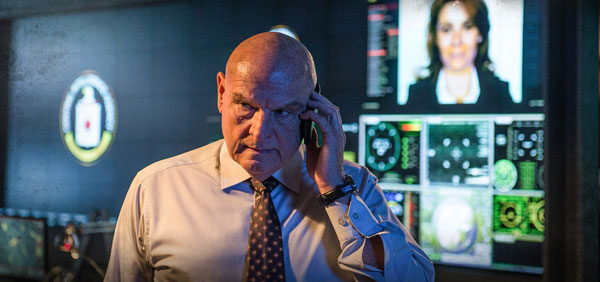 For years, you've been watching him play cops, Military men, loving fathers and everything in between. Bill Smitrovich is a true character actor; the utility man of any production. Hand him a script, give him a part and you can be sure he'll knock that role out of the park.
He's currently starring as a CIA Agent in The November Man, opposite Pierce Brosnan. Directed by Roger Donaldson, it's the story of an ex-CIA operative (Brosnan) who is coaxed out of retirement to protect a valuable witness. He quickly finds out that the mission isn't what he thinks, bringing him into the cross-hairs of his former friend and protégé (Luke Bracey).

Smitrovich has been seemingly working non-stop lately. Along with The November Man, he appeared in the season finale of TNT's The Last Ship (and will be returning for season 2), is about to film Ted 2 and last year, appeared in the Geffen Playhouse's acclaimed production of David Mamet's American Buffalo.
Thankfully though, he took some time out of his schedule to talk with me recently – and I loved every second of it. We chatted about The November Man, auditioning and his advice to actors. My favorite part of the interview though is the story of how he got his start as an actor.
For the full interview, click the audio link above or download it from iTunes.
The November Man is now in theaters.

Can you tell me about your character and the story?
Bill Smitrovich: Well, my character is CIA Agent Hanley and I basically pull Pierce's character, Peter Deveraux, out of retirement to help with the CIA mission that involves his wife who had gone undercover and they had since parted ways but I kind of use her as a lure to get back in the business because I need him.
Do you do a lot of backstory for your characters?
Bill Smitrovich: Well, I read the book, Against All Spies, which this one is loosely based on. And it gave me an insight into the world of… that they were in as friends, Deveraux and Handley and my boss at the CIA, who's played by Will Patton, we were all in the service together way back.
So the book helped define that world for me a little bit and kind of what Handley was about and what a little bit about his flaws and a little about what makes him run. But the script itself told me everything I needed to know. I've said this before and I'll say it again, it's probably the best experience I've ever had on a film in my career.
Oh, wow.
Bill Smitrovich: Yeah. The film, the experience, working with Pierce, the character, working with Roger again after doing Thirteen Days with him was a delight and I loved working in Serbia. Maybe it's my Eastern European blood, but I just had a great time. Just a great time.
How do you like working on location?
Bill Smitrovich: I love it. I do love it. When my wife can visit. But, no, I like locations. They lend an air of adventure to the whole thing whether it be personally or professionally and always new things to look at. It's refreshing to go on location, but for films. When you're doing a television show and you've got to work these long hours and long days and it's a long season, I'd rather be working at home.
Do you still have to audition for things? I would imagine not because every director and casting director worth anything knows who the heck you are.
Bill Smitrovich: Yeah, yeah. I didn't for this and I don't so much anymore unless I really wanna fight for something or it's something that I just want to take a stab at. But, no. Not lately. I mean, I've been pretty lucky. As I've gotten older things have gotten better in a lot of ways. I think I've learned a hell of a lot in the past 30 years. I feel pretty comfortable right now with what I'm doing, where I'm going, and where I've been. It feels pretty good.
Did you have a time where you were just completely nervous auditioning?
Bill Smitrovich: Oh, yeah. I mean, auditioning is not something I like to do. You know, auditioning is pretty informative for everybody, including the actor. If you can get rid of all of those nerves and approach it with confidence, and rather than thinking about the job and the booking and thinking more about what's happening in the room, you're better off.
I wish they could teach a course in confidence in college, in acting classes. I think that'd be a wonderful thing to teach but that requires more than just teaching. It requires doing and experiencing it and living it. And I think good confidence, strong confidence, not just false confidence, but feeling like you can still be available and confident at the same time. You don't have to be a jerk to be confident.
You have a great story about your first audition and how you thought it was for one thing but it was actually for something different. But the joy and happiness that came from that story, I could feel just from reading. Could you tell the story here?
Bill Smitrovich: Yeah, yeah. It was fun. I was screwing around with acting when I was in college and just having fun. And I was a big standup comedian fan, I loved George Carlin, Bill Cosby, listened to him all the time, George and Bill, and Rusty Warren and Redd Foxx and all those people. Lenny Bruce, of course.
So somebody said, "Hey, you ought to go down and audition for Lenny," and I thought they meant Lenny Bruce because it was on Broadway at the time and little did I know that that's not gonna happen. So I went down there and they had me read Of Mice and Men and I never had read it. And I went down to the end of the hall and found a quiet place to sit down and read the script and it was the first time I'd ever wept at a piece of literature in my life. And it profoundly moved me and I just… I can honestly say it was an epiphany. I mean, I had… the character just exploded in my head and I kinda knew what was going on and felt like I really had a handle on this guy.
And I went in all the guns loaded and they had a guest director who ultimately had an influence in my life. His name was Al Pia and he was an acting teacher at a high school, but he had a community theater, Sterling Barn Theatre, that Morris Carnovsky worked and performed at and I got a chance to meet him and Al.
So I go into the audition and they tell me, well, they're gonna do the scene where Lenny breaks Curly's wife's neck, you know, when he's stroking her hair in the barn and she gets a little flirtatious and he gets out of control. And it happens. And I did it and I didn't know it at the time but, man, I was deeply into this character at the time.
And then I heard this laughter and they were laughing and I stopped and I got very indignant and really emotional and I said, "You're laughing? You're laughing at this character? If you're laughing at this character you should not be directing this play." And I was really indignant, I was emotional. And they said, "No, no, no. We're not laughing at you. We're laughing because we found our Lenny," and I just lost it.
And Al taught me all kinds of things about how to break down a script, how to, you know, how to take stage, how to give stage. All the things that I needed to know and still carry with me to this day about breaking down a script or looking at a play and uncovering… peeling away the onion, if you will.
And it was just a great experience for me and I'll always remember that moment was the moment my mother got a chance to see me and I got the best actor award that year. And I wasn't even in the theatre department.
And it was a big… kind of a big to do and we took the play to Al's theatre in Stanford and it ran for I guess about a month and a half there. And we… it was just the beginning of an experience that kind of cemented my desire, what I was going to do with my life.
And then a couple of years later I got an offer to go and audition for the Master's Program at Smith College for Master of Fine Arts program, which was coeducational at that point. It was the second year of the master's program opening it up to the males. So I went and I got 2 years scholarship and a stipend and got my MFA and met some more wonderful people and started a theatre company with some other friends of mine there and stayed in North Hampton for 3 or 4 more years and we moved one of our plays to New York and I said, "Oh, I'll give it a shot. I'll give it 10 years. If nothing happens in 10 years I'll go back to restaurants."
So about 2 years later or actually, less than that. I met through my acting teacher Jack Garfein who used to work with Harold Clurman and the Actors Studio and he gave me an audition for Arthur Miller's new play called The American Clock and I got a chance to audition for Arthur Miller and Dan Sullivan, who I've worked with a couple of times since then and they gave me the understudy role and assistant manager and got my Equity card.
Nice.

Bill Smitrovich: And went on the world premiere, the lead actor couldn't go one for the 2nd, 3rd, and 4th performance of the world premiere, and I went on in the lead for 3 shows. And it was… it was just fantastic. Standing ovations every night and I really kind of saved the day kinda thing. And it was one of those stories and I went back to New York. And word kind of travels when you're in those circles and I started booking things. And it was kind of the beginning of my career. I couldn't have started it any better than with Arthur and Dan, but particularly Arthur.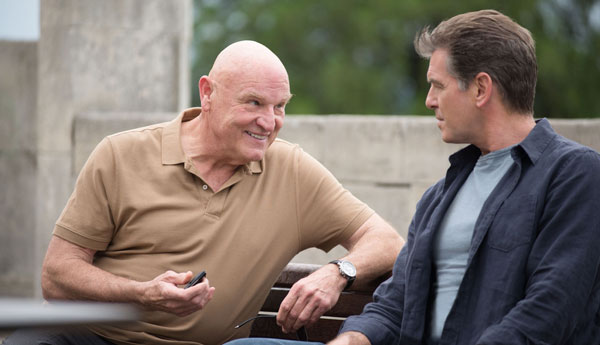 You're still doing a lot of theatre.
Bill Smitrovich: Oh, yeah. I did American Buffalo last year, I've got the best production 2013 LA Times and David Mamet came to see it a couple of times and loved it and we had a great run. Great run. Wonderful production.
You seem super busy, how do you decide… do you get some sort of itch and say, "It's time for me to do a play."
Bill Smitrovich: It's just, that was the role. That was the role of a lifetime right there. It's an American classic and I hadn't done it, knew it well, had never seen a production of it, and I didn't want to see a production of it. I couldn't even watch the Dennis Franz, Dustin Hoffman version of that. It was just horrible. And… not for anybody's fault, but it was just ill conceived.
Right, right.
Bill Smitrovich: But it was… and the play before that was Art. Not Art. A Number. A Caryl Churchill play that we did in San Francisco, the West Coast premiere of that play with Josh Charles. It was a 2 hander, a very, very difficult but wonderful play by Caryl Churchill. It's about a man who's got a son and he cloned him and he's visited by his real son and 2 of the clones, played be the same actor, Josh Charles. So it was kind of fun.
What's your advice to actors? I'm sure you get that question all the time.
Bill Smitrovich: Well, you know, it depends on the actor. Every actor needs a little bit of advice but… jeez. Confidence. Work on your confidence. You don't have to be a jerk to be confident. Know your lines. Give it your best shot. When you audition, try not to be distracted. Stay focused and have fun.
Just remember the people that want to hire you are your friends and they're there because they're looking for people like you. And it's not always the best actor that gets the role, it's the right actor who gets the role. The appropriate actor for the role and that's determined not by you. So all you can do is do your best and have fun and keep plugging.