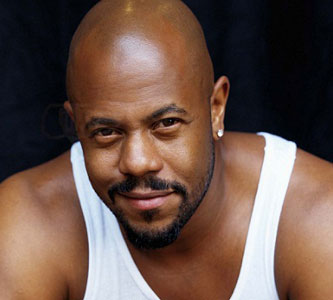 Rockmond Dunbar is the new Sherriff in town on FX's Sons of Anarchy. He plays Eli Roosevelt, a guy who doesn't like to be manipulated but is quickly realizing that in the town of Charming, that isn't going to happen.
I worked with Rockmond when I did an episode of Terriers and I had a great time. Even though I only had a couple of lines in the scene, he hung out and we got to know each other a bit. He was funny and an all-around nice guy, which is not always the case.
I talked to Rockmond about how he got on Sons, his advice to actors and what you do when your show – Terriers – is canceled.  
Follow Rockmond on Twitter!
Sons of Anarchy airs on Tuesdays at 10pm on FX
For more Sons of Anarchy, check out our interviews with Theo Rossi, Winter Ave Zoli and Kristen Renton and Christopher Douglas Reed.

For the full interview, click the audio link above or download it from iTunes
When Terriers was unfortunately cancelled, did you immediately start looking for another job? And when you do, do you look for a character that's completely different from what you just did?
Rockmond Dunbar: You know it's kind of hard.  It's always—I don't think that there are so many jobs out there for actors, especially African American actors, where we can pick and choose what we want to do so you kind of have to be in a position where that next job—I'm always looking for that next job.  I mean just from the Sons of Anarchy I'm rolling into another television series, The Game on BET.  I'm doing like eight episodes of that show, and I wasn't looking for the next job but now I'm starting to get in the position where I'm getting offers, like Sons of Anarchy was an offer.
I didn't—I always try to create—You know I have a small production company so I try to create my own type of characters that I want to do.  So I don't think I necessarily have had the choice to look for a specific character.  It just depends on what the job market is like and what comes across the table.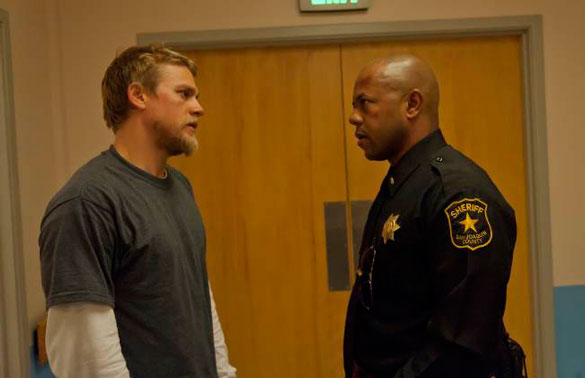 What's your advice to actors?
Rockmond Dunbar: Tenacity.  You just really, really stay ready, stay focused, and learn as much as you possibly can and do—if you want to be in this business do it for the right reasons.  Don't be in it because you want to be a celebrity.  Be in it because you really love the work and the work keeps you up at night and it keeps you motivated and wakes you up early in the morning because you have ideas and things of that nature, and never get in to it because you want to do it for money.  Have that passion in your heart where you would do it for free just because you absolutely love it, and if you just want to do it because you want to be famous then go do reality TV.
What advice would you give your 18-year-old self?
Rockmond Dunbar: Be patient.  Always be kind.  Stand in the middle of the river.  Just be prepared.  It will all come.  Don't be in such a rush and give yourself room to make mistakes because you're human.  We've got to make mistakes and allow yourself to make those mistakes because it only gives growth.
Is it more fun for you to play a cop or a bad guy?
Rockmond Dunbar: It's fun to work … on most characters that are three dimensional.  I love characters that basically have something to say and a lot to do.  I love characters that are conflicted, characters that are not just surface presentational models basically, so this character's definitely a job.  I loved the last character that I played, 'Mark Gustafson,' with FX – another great character that Sean Ryan created.  So yes, I don't think it's an either/or thing…it's more the basis of the character and if the character's three dimensional or not, and then I get to play and have fun.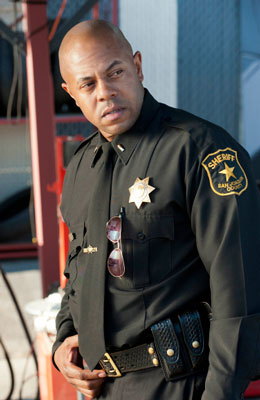 Can you talk about this role?
Rockmond Dunbar: I started off when I came into the office to speak to Kurt about the character and what he wanted to do with the character. 
Initially our first conversation was, "Hey, look man, we're going to bring you in for a ten episode arc.  You're going to die.  It's going to be great.  I don't know what your demise is going to be but of course it's going to be brutal because you know our show."  And that was my contract.  That's what I knew my contract to be.  I signed up for it at the very beginning.  But once the tenth episode came then that changed so I don't know what's going to happen with the character.  I have no idea if—well, the way it's being set up now there will be some type of continuation but I don't die so that's one good thing.  But we'll see.
It says that you've also written, produced, and directed numerous projects.  I was wondering what attributes or what do you admire about the writers and the staff for Sons of Anarchy?
Rockmond Dunbar: The challenges that they put themselves in.  I love writers that paint themselves into a corner and don't know where they're going to go next.  It's easy to do a procedural show and say, "Okay.  Well, we're going to tackle this criminal activity and we already know what the scenario's going to be."  But when you paint yourself into a corner, and you don't know where you're going to go, you don't know how you're going to get out of it but you know you have to because you have to have another episode because you've been picked up for 13 or 22 or whatever the case may be, that's the type of challenges that I love.  
And I think these writers do a really great job of that, of challenging themselves to take it to the next level and the dialog is crisp and the characters all speak differently, but the words are easy enough on the tongue.  Because sometimes a writer … so much and try to get all the exposition out where it becomes boring and the actors feel like models but you never feel like that on this show.  You're telling a story but also you're not just saying it with the words you're actually showing people what's going on and what's happening.  And I think that's good writing when you can show and not tell.  But that's one of the attributes of the writer and the staff and Kurt that I absolutely love.  They paint themselves into a corner, you don't know how they're going to get out of it, but you know they have to.