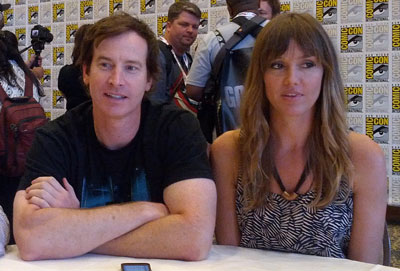 Comic-Con: The cast of Adult Swim's Childrens Hospital were once again back at Comic-Con and as usual, they were pretty damn awesome.
The show, in case you didn't know, centers on the lives of the incredibly self-absorbed doctors and it's hilarious. The show stars some of the best comedic actors around; Rob Corddry, Ken Marino, Megan Mullally, Lake Bell, Rob Huebel and Erinn Hayes.
I talked to Rob, Erinn and Executive Producer Jonathan Stern about upcoming guest stars (including Jon Hamm and Weird Al!), bringing their dogs to work and how the new season takes place on an army base in Japan. When I asked why it was set there, Rob told me that he couldn't explain why because my "head would explode."
And that is why I love this show.
Childrens Hospital returns July 25th at midnight on Adult Swim.
Check out the video below.