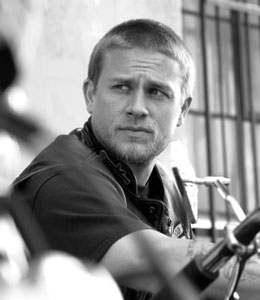 Comic-Con: The next 12 months, you're going to be seeing a lot of Charlie Hunnam.
Along with season 5 of FX's Sons of Anarchy (which starts September 5th), he's got Frankie Goes Boom (featuring fellow Sons star, Ron Perlman, Chris O'Dowd and Lizzie Caplan) and then, he'll star in quite possibly one of the biggest films of next summer, Guillermo del Toro's Pacific Rim. He also just completed his first screenplay, VLAD, which will soon start to film.
In this interview, Hunnam talks about his character Jax, his upcoming projects and how he'd be perfectly happy to film the show forever as long as "all the guys are there with me." And don't miss a cameo by fellow SOA actor, Mark Boone Junior!
Unfortunately, the audio in the video isn't the best – sorry! – but you can still hear most of the interview. Check it out below!