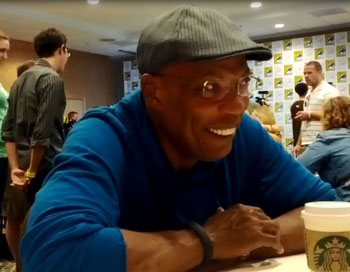 Director Paris Barclay is one of the most popular directors working in Television today. If he's not directing some of the best episodes of Sons of Anarchy, he's behind the lens on Glee, or shows like Smash, In Treatment and the pilot of Last Resort.
Having met Sons creator/showrunner Kurt Sutter while they were both working on The Shield, he's now the go-to-director for all of Sons important episodes. Seriously, check it out on IMDB. Every huge pivotal episode was directed Barclay.
I talked to him at Comic-Con and he was one of the coolest interviews I did that day. I'd love a chance to work with him. In the roundtable, he talks about his working relationship with Sutter, directing emotional scenes and why Glee is harder to direct than Sons of Anarchy.
For the full interview, check out the video below.
Sons of Anarchy premieres on Tuesday, September 10th at 10pm
When you're directing one of the huge like emotional moments are you emotional as well when it's happening?
Paris:  Yes. I wish I wasn't, it would be better. Like even when Opie got married to Lyla and their wedding at the beginning of the season four, I'm crying. It's like it's not a real wedding, we staged all this. We brought in all these bikers you know, these flowers are fake but you know it's so beautiful, even when he said I promise to ride you like a Harley. You know even then, you know, you get stuck in the moment.
And when Gemma had revealed that she had been raped, which is so interesting, because you know she doesn't reveal it for necessarily the best reason, she reveals it because she's got to get Jax to rejoin the club and seek vengeance against these people. She's always manipulating. It was really emotional when she told that story of what happened and you looked into those guy's faces, it was something. So yeah, I always get emotional.
Tell us about your collaboration with Kurt in terms of the tone and the feel you want to give to the directing; is that kind of at your discretion?
Paris: No, that's a great question. I've known Kurt since The Shield, I directed three episodes of The Shield and he wrote all three of them, oddly enough. So I knew him back in the day when he was a writer on The Shield. He brought me into season one, I directed the third episode of season one. Kurt has said that's when the show hit its groove, and I didn't know exactly how or what he meant. So I came back and did more episodes, and more episodes, and I think, what I understand about Kurt the sick, demented, combination that he's going for of this pulpy action, this deep emotional story line, psychologically deep, and flavored with this really dark comedy.
And it's hard to get the balance of ingredients right. It's trying like, it's trying to make a cake and if one thing is off the whole thing is flat. And I've seen other directors come in and haven't delivered the balance, and sometimes the scripts haven't, but usually the scripts have.
But if you really understand what Kurt's trying to do when you really pay attention to that. You can really play this, you can play this show like a piano, because it has, you know all the good things that I like, a lot of people getting killed, a lot of people who are really funny and strange like Tig, and a lot of deeply emotional scenes that I've never done before. Even in other shows I do, like In Treatment or NYPD Blue, or Glee. This is a different kind of combination of stuff.
You direct Glee?
Paris:  I know, Glee and Sons of Anarchy, it's like, I know. It's really like the additive inverse, and I usually do them back to back so you. So then one's like the gayest show on television and the other one is like the most macho, you know, it is a little bit. But that's part of what I do as a director. I don't make up this shit. I mean I get a script, I study it, and then I figure out what's the best way to take this script and make it the best it can be, and bring it to the stage. And I've always been about, you know, it doesn't matter what kind of show it is. Once I think I did Sons of Anarchy and then I went and did Smash, which is even gayer then Glee, and my head hurt from the whiplash, but at the same time it's the same skills.
You're trying to figure out what is this show they think they're making. The show they think they're making wasn't as good as the show we know we're making here, for obvious reasons. But you try to make it, and you try to give it to them, and you try to get the actors to give their best performances, you try to bring all the elements.
There's two-hundred people that work the show that you guys don't interview. There's two-hundred people there every day, working on Sons of Anarchy. You know, it's amazing so you try to pull them all together and see what you can get.
Do you know before the season starts what episodes you're going to shoot?
Paris: I do.
And can you choose them?
Paris: I choose them somewhat. That's a very good question. I don't want to reveal too much, but at the beginning of the season I'm in the writer's room with Kurt, and they start to talk the arc of the season, what basically is going to happen. So I'm generally privy to that. It can change, you know, but generally this is the shape of the season, and then Kurt decides, he sort of casts the directors, according to what he thinks is going to happen in those episodes.
So we can look on IMDB, and the ones your directing, and be like "Ok, shit's going down in that one."
Paris:  You could look at that yes. If you were looking at this season for instance, I am directing episode one because I always do the season opener. I'm directing episode seven, in which yes shit is going down.
Is it more challenging to direct something like Glee? Or something like Sons of Anarchy? And what are the challenges in each of those?
Paris:  It is harder to direct Glee than to direct Sons of Anarchy.
Is that because of the musical numbers?
Paris: No, it's because, how should I say this nicely, I don't want to get in trouble.
Because forty-year olds are playing teenagers?
Paris: Well no, that should be helpful generally. Let me do it in a positive way. Sons of Anarchy, because I am an executive producer on the show and because the way Kurt works is a much more organized production. Kurt writes in advance, you know you get the scripts sometime before you're actually shooting that, you're involved in the casting, you really have time to prepare, we story board sequences that involve action, we have a read through with the entire cast of the script a couple of days before we shoot it, so all the actors can come with questions and then you have two days to sort of figure it out. It's organized in a much better way.