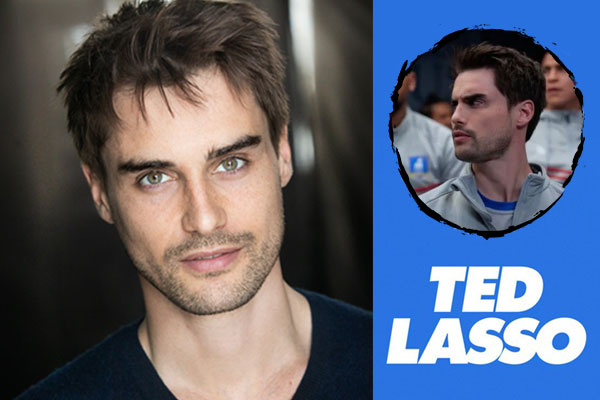 Ted Lasso is back, and honestly, the AppleTV+ show couldn't have come at a better time. Season 2 brings back all of the familiar faces we've come to love, including French footballer, Richard Montlaur, played by Stephen Manas.
Richard is a "little lost," Manas told me recently. "He's very good in football, but he doesn't have a lot of cohesion with the team" because his English isn't great.
Manas, even at a young age, has already lived an interesting life, working and living not only in his native France, but India, Tokyo and the Philippines. Each time he'd come back home to France, he said that he arrived with "more experiences and even better acting skills."
In this interview, Manas talks about the show, how he got the part and working with Jason Sudeikis. He also chats about working in India and Tokyo, his accent and if you watch the video below, his worst audition ever.
For the full interview, check out the video below. These are edited excerpts from that conversation.
Congrats on all the Emmy nominations!
Stephen Manas: Thank you so much.
We put a lot of effort… not effort, we put our heart into it. We've done with the same message as Ted Lasso: Do your best, even if it's not perfect, do your best. Trust the process. Believe.
We've been led by Jason Sudeikis, so we have just the best example on set. Even when he's not shooting is here to guide us with a wonderful team. So, the Lasso way has been affecting our professional lifestyle. It's quite fun when you think about it.
How did you get the part?
Stephen Manas: I got an agent who was doing international casting from a small agency… and he's working with platforms online to look for castings. There was an open call with a casting director named Theo Park who was in charge of Ted Lasso and they were casting for international people, not English for some parts.  And they were quite open, I think, with them with the nationality of the new characters.
So, this is how, I think, they cast Cristo [Fernández], me… there are people from Canada, Nigerian people. But for other characters, they just said, I think, "Open call, let's see what we have. What we can do with this profile." And I believe they saw me on the casting.
And I have to thank my French team for winning the World Cup in 2018, because "Okay, maybe we need a French because French are quite popular in football right now." So, I'm thanking my French team for winning the World Cup in 2018. Maybe it helped the process of having a French character in the football team.
And that's it. I did the casting, some call backs and then the confirmation and the next thing I know, I was in London for the first season. It went quite well, then they confirmed me for the second and now we're done.
From the time you got the part, how long was it until you were actually on set?
Stephen Manas: I think it was three or four days. Super last minute.
I really love this American way, extremely efficient. "Stefan, we need this for this part. Okay, come on set… do this, do that… this is your new lines. Try to do this." Always creation. You have to be extremely fast.
I don't have a lot of experience but in France, the process is a little… maybe slower or takes a little more time? I don't know, you tell me, maybe the American way…  super-fast, efficient, practical… pragmatic and this is how I got cast.
There's this saying, "Hurry up and wait." So you have to hurry up, get things ready to go and then you just wait. And wait.
Stephen Manas: I didn't know this one, I think it's very good. I'll remember this one.
I want to ask you about the beginnings of your career. You've not only had an interesting career, but it seems like you've had an interesting life so far too. You've worked in India and Tokyo, all over the place. How did you get started in acting and how did that bring you to all of those places?
Stephen Manas: I discovered acting, I did my first job as an extra when I was 16 and I really loved the ambiance of the production and everything. I said, "Wow, that's great. Maybe I would love that." I was watching lots and lots of movies. I come from a very small town, like 2000 people in the mountains of France, so acting and cinema seemed like a different world. It's not really accessible. At 17, I moved to a big city and I was always trying to do a little acting with students, but I followed another path. I had been doing marketing for five years and then at 23, when I graduated, I worked two weeks… you know, with a tie and suit and everything and after two weeks I said, "OK, forget that, that's not for me. I would love to be an actor."
I didn't have much money to go to an acting school or drama school. So, with what I was learning in marketing school, I studied. "OK, where can I go in the world to try to be an actor?" My English was a little off, so I needed an English place, kind of cheap. London was extremely expensive, USA probably too.
So I went to India. I went to an acting agency. They said, "Stephen, you won't make much but you can come and give it a try." So, I took a flight to India alone. I was going to stay for three months and I stayed two years. And then I came back to France with no experience but I came back with life experience and when you have more experience you are a better actor.
But I still didn't find that much stuff in France, so I survived by being a waiter, working construction. I was a driver like Uber. Then I was bored in France, so I went to Tokyo. I stayed in Tokyo for six months, then Philippines and then I went back to France with more experiences and better English and even better acting skills.
And then I met an agent, who was doing international casting for a platform and he said, "Stephen, you should try this instead of focusing just on France." I was struggling and struggling and I said, "OK, let's give it a go." And two weeks after that I got the casting of Ted Lasso. And two weeks after that I was in London.
Ted Lasso is streaming on AppleTV+