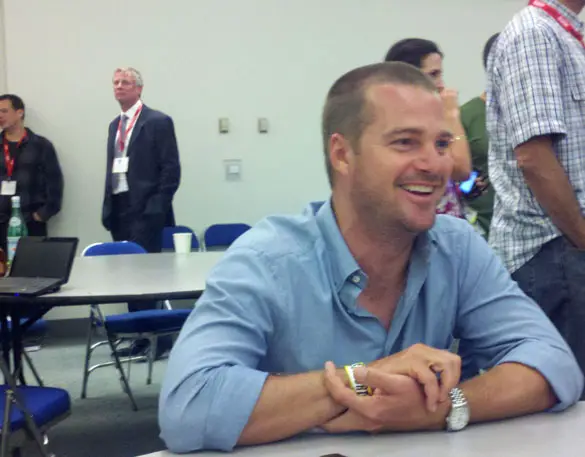 NCIS: Los Angeles is one of those shows that fit you like an old shoe. You watch it and you immediately like characters and their stories and have no problem spending an hour with them. In fact, you welcome it.
The casting of stars Chris O'Donnell and LL Cool J helped with the success of hit CBS show that is always in the Top 10. The chemistry between the two is undeniable and is definitely a reason why people keep tuning back in.
Chris plays Callen on the show that starts its third season tonight, right where last season finale left off. He talks about his chemistry with LL (or Todd as he say's in the interview), if they created a backstory and his advice to actors.
And if you want to hear something hilarious, check out the audio interview. It was a roundtable interview at Comic-Con and there is a guy who tells Chris that Batman and Robin "has been praised as the best one of the four." The guy was totally serious or trying to kiss some major butt but Chris, laughing, says, "that's not true!" Check it out if you have the time.
Follow Chris n Twitter!
NCIS: Los Angeles airs on CBS, Tuesdays 9/8c
For the full interview, click the audio link above or download it from iTunes
Well, you're on the beach when you start off this new season?
Chris O'Donnell: We are.  It's funny.  We literally picked up right where we left off last season where I'm kneeling in the sand and I turned around there is this little boathouse behind us, I took a picture of it, put it on Twitter, and within minutes, there were so many responses.  Everybody knew exactly where we were just from. I said nothing I just put a picture out there and fans know.  They watched it so closely.  It's amazing.
The relationship between Callen and Sam is one of the best things about the show. How do you create that chemistry?
Chris O'Donnell: We, in general, Todd (LL Cool J) and I have a lot of fun with each other. We BS with each and give each other a hard time but at the same time, there's a real mutual respect.  We've got different upbringings and come from different cities but we both have been in this business a long time and have an appreciation for hard work and knowing when we've got to work and when we can have fun.  Both have big families and, I don't know, I think we just, we like to give each other a hard time, and there's something about that that kind of rubs off on the characters.  Because a lot of the show is, you know, us having fun and also being serious in working together as a team.  Then it's up to the writers to make it work.
Do you create any sort of back-story?
Chris O'Donnell: No, we really didn't.  We just kind of launched into this thing and I think that the writers know how we get along on the set and how we needle each other and I'm sure they observe that.  That's what great about shows when they go on for a long time is that the writers, they get very familiar with what we're going on for in the characters, they get more familiar with us and they are able to incorporate things.  It just becomes, you know, it fits like a nice warming glove or something.
What's your advice to actors?
Chris O'Donnell: Well, I think it's different for everybody, you know?
A lot of times, people come out to me that are in high school or something, or just getting out of college, and sometimes, you will have people that are my age that are saying, "You know what, I'm sick of my job. I've always wanted to try this."
I think that if you're in school, get involved in anything you can at school in productions and that sort of thing. I think that obviously, the work is in Los Angeles and New York.  What I tell people that really want to try and make a career out of this, get to New York or L.A. and do whatever you can do.  Take acting classes, to try to get in plays, small films, to meet other people that are struggling like you because it's… The way they find out about opportunities and jobs is through networking with people that are in the same boat as you.
It's the same thing for people that are trying to become executives in the film business and agents, that sort of thing.  Los Angeles is just filled with people just trying to get a foot in the door.  It's really hard and all you can really do is work at your craft and make sure that if and when that opportunity presents itself that you can seize it and take advantage of it. You've got to put yourself in a position to be successful, really.