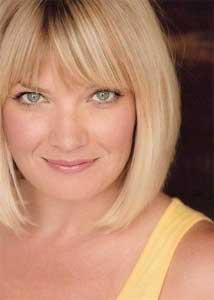 The Tony Nominations just came out and one of the funniest shows of the season, Lend Me A Tenor, was nominated for Best Revival of a Play.
I saw the show when I was in New York and it was hands down the best show I saw that week – and I saw some great shows!  The moment the lights went down to the curtain call (one of the most inspired curtain calls I've ever seen), I never stopped laughing. Lend Me A Tenor does not disappoint.
One of the reasons the show is so good is because of Mary Catherine Garrison. She plays Maggie, Max's (Justin Bartha) love interest in a show that is over-flowing with talent. Directed by Stanley Tucci, is also stars Tony Shalhoub, Anthony LaPaglia, Jan Maxwell and Brooke Adams, Mary Catherine shines in the role as the"virginal" damsel.
She's got such a great story on how she got her first Broadway role working with Nathan Lane. Whether you want to work in theater or not, this interview is priceless on how she got her start.
As always, I recommend listening to the interview if you have the time.
So, as the curtain comes up you're the very first person we see on stage. What was that feeling on opening night?
Mary Catherine Garrison: Every time I start a new show I think "This is my last chance to run away, to never be heard from or seen again." So, I had that feeling like I always do. But it's also neat—I'm trying to think of how many shows I've been on stage when they start—and it feels like an honor, but it also feels like a lot of pressure to get the ball rolling and make sure your energy is up there where it needs to be. Especially for something like this.
The cast is obviously amazing. You get a chance to run around and have fun with them night after night.
Oh, my God, it's so stimulating. This is one of the best jobs I've ever had hands down, because everybody's so good at their job and so creative. They never stop working. Tony Shalhoub is a maniac. He works on his bits. He's still working on stuff. When he's not onstage, he's backstage running through things, trying to figure out certain jokes. And just the other night I was backstage with Justin and Tony and I lost some laughs that I had since the beginning, and we talked it. We were whispering. We practiced different versions of what it could be, and we figured it out and I got it back. Everyone's so generous, and there are no crazy egos in this cast. It's really stimulating and fun. I just feel really, really lucky to be a part of it. Everybody says stuff like that, but I actually really mean it. [LAUGHTER]
And Justin Bartha, this is his first Broadway show and it looks like he's been doing this for years.
That's what I've been saying, you'd never know this was his supposed debut. He did do plays in high school, but obviously that was a few years ago. He's just blown me away. I love being on stage with him. I love watching him. I love watching him and Tony. I literally stand backstage and watch some of their scenes every single night. I think they're so delicious together. And he's just game, he's a pleasure.
Do they change—especially somebody like Tony—does he change his bits up on a whim?
Well, you can't because the precision with which you have to execute, especially the physical stuff. It's very scientific. Throughout the rehearsal process this has a lot to do with Stanley too, who I think is some bizarre master of comedy. Like, we figured out three knocks is funnier than five sometimes. Or, if you reach out with your left arm it makes the joke work where your right arm kills it. It's stuff you can't really explain, but obviously it's fascinating. But he will—if Tony feels like there's a joke or something funny he had in a scene somewhere he will keep digging until he finds it. And he can make things funny that with any other actor wouldn't be funny. Something about his manner is so hysterical.
The show is probably like a marathon every night, and like you said everything has to be perfectly executed. You've got to be exhausted by the end of the night.
Yeah, especially that crazy curtain call.
Oh my God, that was hilarious!
I feel like I'm going to the gym at eleven o'clock. It's so weird. It's exhausting but it's especially exhausting for—you know Justin gets very little time off stage. For him and Tony it's especially marathon-like. I'm really tired.
How is it working with Stanley as a director? He's a brilliant actor.
I'm trying to think if I've ever worked with another actor as a director before. I don't know that I have. But he, first of all, is very sympathetic. Because he's also an actor and he knows what it's like to be up there. But because he's an actor first, he gets inside it himself. Unlike with other directors, I really feel like we all worked on it together. He was as much of a "Lets figure this part out" process as any of the actors would be. Everybody says this, but he has a real collaborative nature, and so ideas came from every single person that was in the room; our stage management team, the producers who were watching, everybody who felt free to chime in and figure something out that needed to be figured out. I'm a hippie at heart, so I loved that. Equal opportunity directing. But he's also so smart about comedy that you trust him. Many times in rehearsal process he says "Just trust me. I know this is funny." And he was right. It happened all the time.
Have you or has anyone else completely lost it on stage laughing-wise?
I hate to tell you this but that happens at least once a week. It's so genuine. And there are a few of us who are weaker than others. Some might say less professional. But Brooke Adams is made out of steel; she just doesn't lose it. But there are other people [LAUGHING] like myself who are a just a little bit more vulnerable in that area. I just have the hardest time. Especially… the people are really funny. Sometimes they just look at you cross-eyed and that's it. I'm just a human. I can't be any stronger than I am. It's tough! [LAUGHTER] The audience loves it when it happens. Did we break the day that you were there?
No, actually you didn't. I was almost waiting for it because the audience was completely busting up laughing, and I just don't know how you guys sometimes can save face.
I know. It works half the time, especially when the audience gets really tickled and they don't stop laughing. It's human nature to want to laugh also. It's so hard to keep a straight face. The inside of my mouth is bitten to pieces just from chomping down on my cheek. Because I'm a laugher anyways, so it's not a skill I have in life.
Were there any parts in the show where you didn't expect to get as much of a laugh as you did?
Yeah. Especially after being in the rehearsal room and doing the same jokes for the same people. We really needed an audience. And there were parts of it—I thought the play was really funny when I read it, but I didn't know it was this funny. The giddy frenzy the audience is in—I call it Oprah-like, you know with Oprah how people are screaming and losing it in the audience—when they get to that point, I had no idea it was going to be that kind of escalated delirium. It is so thrilling to be on stage when that happens. It is such a present in life, I can't even stand it.
You're from New Orleans?
Yeah, I grew up in Slidell. I went to school at NOCA. It's a creative arts High School that has music, a jazz program and art. It was like FAME but it was in New Orleans. It's funny because I actually was an artist; I painted and drew and made things my entire childhood. I heard about this school and I wanted to go into art. But you had to show a portfolio and I didn't have one. And I didn't sing, I didn't write, I didn't dance, I didn't play an instrument, so that left acting. It was random. I was like, "What's a monologue?" I picked one, did it, got in and have literally done nothing else.
Then you ended up in San Diego.
For grad school.
Okay, so grad school for theatre?
Grad School for acting, theatre, and then I went to college in Evansville, Indiana for painting. I got a minor in oil painting, and my major was theatre. I've been in theatre classes since I was 15 years old. I have no excuse. [LAUGHTER]
How to you go from San Diego to ending up in New York City working with Nathan Lane on The Man Who Came To Dinner?
That's a random story too because I had moved to LA after grad school—you have that showcase thing and I opted to move to LA—and I got a job as a reader for that play. And at one point Jerry Zaks turned to me and – there was a part for a young girl, a young woman. He said "Why don't you audition." I said "Sure." It was the end of the first day, and at the end of the second day he had everybody come in; I did my audition and I got it. And that's how I got to New York.
Do you think it helped you because you saw everything the other actresses did wrong?
I have to say, as much education as I've had in theatre – and I've had an embarrassing amount of it –  it was probably the most helpful thing that's ever happened for me professionally. And I continued to be a reader while was in New York just to make a little extra money here and there. It's so fascinating when people walk in the room, that's it. That's it. It's already sold. People would sabotage themselves upon entering the room and they have no idea. You can tell. You have people come in who aren't even right for a part, but because of who they are and how they saw themselves—and also talent and interpretation of the thing—will get a part. Where somebody might come in seemingly perfect and just wasn't there. It was so interesting, I've never forgotten that. Auditions are weird. It's not really acting it's something else. I don't know what it is, but it's not really necessarily acting.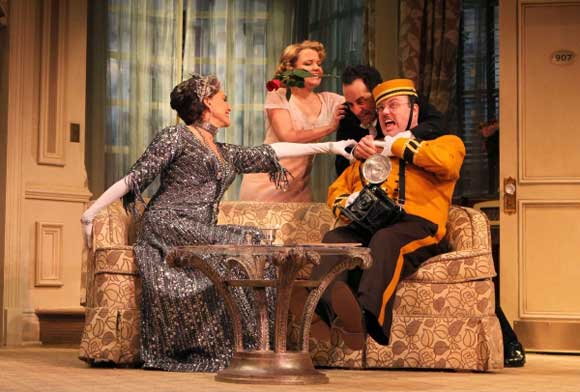 Do you think you've mastered the audition yet?
I think I am at least not scared of it. I enjoy them. I went through a period of stage fright and my auditioning got really affected. I'm certainly on the upswing from that. Actually the audition for this show was a really positive step in that direction, getting rid of stage fright.
How did you go about auditioning for the show? Did your agent called up and said "Hey, we got something for you."
Yeah, that's it. He sent me the sides and I was like, 'Really, this is for the lead.' The female lead anyway, this is obviously about the men. And I just went in and did it and it was a great audition. Stanley was really easy. He's a very nice person immediately when you meet him. He's really funny and he gave me a few adjustments, and we got along well. That was it. It was so pleasant.
So from the time you were in LA to the time you got the part, how long was that?
Let's see, I graduated in April and it was a couple months later.
Wow, that's awesome.
Yeah it was. [LAUGHS] I got really lucky.
So right now which do you like better; Broadway, television, film?
I don't know. I haven't had a lot of experience with film. I'm really curious about it. Plus, who wouldn't want to do more. I spent time in LA, I don't know that it suits me as much as it suits other people. Now, I'm married so I've had to pick a coast. My husband asked me very nicely to pick a coast, because I was going back and forth for awhile. I'm interested in all of it, but I just tend to work more in theatre, so I feel like that's probably my home creatively. It's hard. Eight shows a week is really hard. I would love to just go on a set and have hangout time and take my craft projects into a trailer. I do miss that kind of thing.
What do you do on your days off?
Well, what I'm doing today actually. I'm sewing. I have a blog and a website where I do sort of like Martha Stewarty I guess. I make stationary, I make clothes and vintage patterns, I try new recipes, I make up recipes, I bake. Anything creative that I can think to do. It's like my second job, what I want to do when I'm an old lady.
What's the website?
It's www.littleredfox.typepad.com. And I sell all my art through it.
Cool. Ok, I'll check it out.
Thank you. It's a little girly, but you never know. [LAUGHTER]
What's the best piece of advice someone gave you and what is some advice you can give to actors?
Well, Lance, I have a horrible memory. I do not remember a wonderful piece of advice, but I do have a—my piece of advice would be to be a reader. Because if you can get that job as a reader you learn a whole lot. Not to mention you get to spend time, casual time with people that hire you which is one reason why things worked for me. The other thing is—uh, that's good enough, right? [LAUGHTER]
That's perfect. That one story you told me about being a reader for a man who came to dinner, that's awesome.
I know it's one of those crazy things that happened. I just kept working from then. Just little stuff and gradually the parts got bigger. Here I am, and hopefully it will keep going.