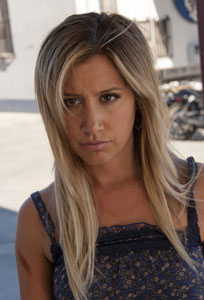 Ashley Tisdale recently had a 2-episode arc on FX's Sons of Anarchy as Emma Jean, an escort working for Jimmy Smits' character, Nero Padilla.
As you probably know, Tisdale is a Disney Channel star (who still does voice work on the animated Phineas and Ferb), but with her desire to shed that Disney image, she jumped at the chance to work on SOA.
In this Q&A, which was done several weeks ago – yeah, we're late in posting this, she talks about how she got offered the role, how she wants to more challenging parts and shedding her Disney image.
Sons of Anarchy airs at 10pm on FX
Because of your Disney past, hardcore fans are having a little trouble adjusting to the idea of you playing a bad girl.  Can you tell me what can we expect to see from "Emma Jean"?
Ashley Tisdale: With "Emma Jean," first of all, I love Sons of Anarchy.  I was so excited to be able to be on this show just because I personally watch it, and I felt like…of course I come from Disney and I have a lot of young fans, but I do have fans who have grown with me as well.
I'm now twenty-seven, and I was just really excited to do something different for a change.  I always want to grow as an actress and this was definitely out of my comfort zone, but I thought that was super exciting just to do something that I haven't done, and to have people see me in a different light, and I had a great time doing it.
With "Emma Jean," she is a high-priced escort, but she just gets into the club and they blame a couple of things on her.  She's kind of in trouble, but she's the high-priced escort for what she looks like.  She's definitely the young kind of high school looking girl.  There's nothing too crazy, though.
Your role on Sons of Anarchy involves some action scenes.  Did you enjoy playing the more physical character and is that something you'd like to do in the future?
Ashley Tisdale: Yes, it was definitely so much fun.  I did a bit of stunt action scenes in a movie I did a long time ago, but it was nothing compared to this.  It was actually my first time ever being on a motorcycle, and Charlie Hunnam was the first person to give me a ride, and I thought that was amazing, because I am a big fan of his and I had the best time. 
I don't get star struck because I feel like I've met Angelina Jolie, I've met tons of people, and for some reason, because I watch the show religiously, I just was so star struck.  Every single time I'd be sitting in hair and makeup, and somebody else would come into the room…  The worst was I had to do the…for the 2nd episode because everybody in the show was there.  I was shaking I was so nervous, but it was the coolest thing ever.  I'd love to do more action stuff in the future.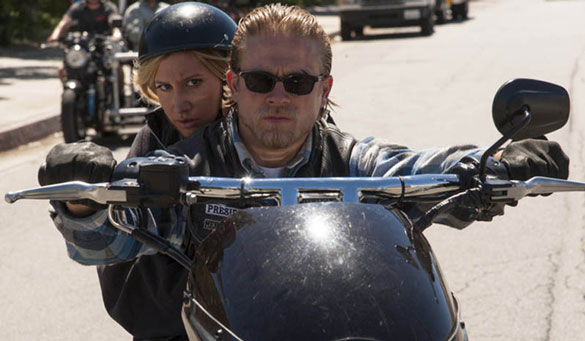 With this role being quite different from your previous works, what type of steps if any did you take to prepare for the physicality of it and just the overall mental portion of that role?
Ashley Tisdale: I feel like it's so funny because before Disney, I did tons of stuff; I did network shows, I had done Donnie Darko.  I had done a bunch of stuff before I even came to Disney, and it's so funny because while you're doing something that I'm so grateful for what Disney gave me and the experiences that I got, at the end of the day, I can do so much more than what I did on that channel and what I did in those movies.  It takes just one person to give you that chance, and for me it was better to give me the chance to know that I can do something different and when he asked me to do the show, I was just so excited.
For me, I think this is the transition in my life for me as an actress.  I always joke around that Sons of Anarchy took my acting virginity because I definitely have a scene in that show, but I'm doing a movie right now, Scary Movie 5 where I'm doing a lot of stuff that's completely out of my comfort zone, and I think that's the key.  I used to be where I wanted to make sure every step was thought out.  With every project I did, I had to make sure I'm comfortable, but I think about when you're growing, even as a person, you have to just do it and get out there and that's the only way to grow, is to challenge yourself.
Can we expect more gritty, hardcore, so to speak, roles like the Sons of Anarchy maybe to come throughout your career?
Ashley Tisdale: Yes, I definitely think that there is a part of me that, I did a pilot this year, but it didn't go for CBS and there was a character that I played, and she was kind of this raunchy, edgy character, and I just loved showing that other side of me.  I felt like Sons of Anarchy, I got to do that with and also with Scary Movie 5, I get to play kind of all the characters that I've created in the past and also to do new things with that. 
It is definitely where I'm headed.  I like to do things that I think people don't expect right now, and I want to keep obviously challenging myself, like I said.
You've been on this set for two crucial episodes with "Opie's" death and then the funeral.  Even though you weren't in those scenes, I'm just wondering if you could describe the atmosphere on set, especially as a fan, did you feel sort of the weight of what the guys were having to act out?
Ashley Tisdale: I wasn't actually on set for those scenes like you said, but I know because you have to obviously keep everything secret, I was reading the script in my trailer.  I had only read my part, and then I was reading the script and just being a big fan of it; I was completely shocked.  I was sad, and I was thinking this was crazy.  I could not believe it, and the worst part was; I couldn't even talk to anybody about it because you can't say anything.  But I have to say, I can't say how it was with those scenes, but I have heard that it was definitely really hard, and obviously, I think the episode came out great.
How did you originally become involved in the show?
Ashley Tisdale: I didn't audition for the role.  I actually was just a really big fan of the show, and it's kind of a funny story, but my dad built my house and also actually built for Kurt Sutter and Katey Sagal, and he has for years and I've been in love with the show and I was always like dad, "you got to tell Kurt"— I've known Katey and Kurt for a long time—"I want to be on the show."  My dad's so quiet and shy, he said "No, no, I can't do that" and it just so happened that Kurt was writing "Emma Jean" and came upstairs to the kitchen and actually asked my dad. 
He said, "I've got a favor to ask you; I would love for Ashley to be on the show" and my dad was like, Oh my God, she's gonna die.  He definitely thought of me for the character, and of course, my agents at first were like; I don't know; we have to read it.  I'm like; I've got to do it.  I've got to do it because, like I said, it is one of my favorite shows.  I've been a big fan of it for years.
Do you know how much the character was already laid out when they brought it to you and did you get to provide any of your own input with that role?
Ashley Tisdale: Yes, Kurt had it, pretty much; it was like the episode was written so he had told me he had thought about me just because they wanted her look to be very, like she's this young kind of Disneyesque girl like the young girl that you wouldn't expect to be a high-priced escort, and he had thought of me.  I kind of just went in there, and he met with me actually right before I started shooting just to talk about it and pretty much it was really straightforward… I think in every character, I just kind of bring something to the character that I could make my own, and I just felt like how I usually relate to a character is what I bring to it.  I just felt like using the youngness to the advantage and kind of the flirtatious thing, and it was definitely different from anything that I've ever done and I was very nervous, but Kurt and everybody were just so cool about it.
Did you always want to work in this industry while you were growing up, or did you have other professions in mind?
Ashley Tisdale: I always did.  I've been in the business for so long, you know since I was a baby.  I had the chance in high school; I worked in clothing stores until I got to really do something else, and I went to … school my whole life, but this is always been something that I've wanted to do.  I can't imagine not being in this, and I'm so lucky to have known that so early on.  I also have a production company and that's just obviously something that over last five years that I've started to really enjoy and learn that type of, that part of the production, that side of the business.  I have always wanted to be an actress.
Can you give us a little bit of a background on the fight preparation between you and Katey Sagal?  Did they have you go through a lot of classes or training to do that scene? 
Ashley Tisdale: No, they pretty much just threw us in there.  We had a set choreographer, obviously, and they just went over exactly what we were going to do, and I have done that in the past obviously with … so it wasn't to scary but I was really freaked out.  I was like, oh my God, is she really going to hit me?  But no, she's the nicest person in the entire world and so it was just really funny; we had a great time doing it.