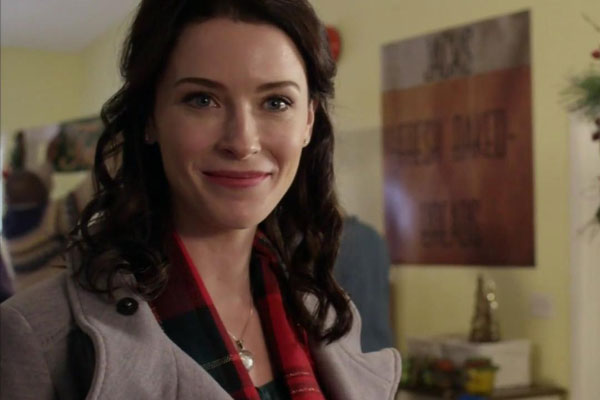 "I have a lot of fun playing Dottie, if I didn't I think I have to quit being an actor" – Bridget Regan on Her 'Agent Carter' Character
The Last Ship returns to TNT this summer and it picks up right after last season's cliffhanger, with the crew of the naval destroyer, 'Nathan James', turning their attention to Asia. After a pandemic has killed off most of the earth's population, the crew find out that the Chinese leader has been stock piling the cure to the deadly plague instead of distributing it to the people of the region.
The show, which stars Eric Dane (Grey's Anatomy), Bridget Regan (Agent Carter), Adam Baldwin (Firefly, Chuck), Travis Van Winkle (Heart of Dixie), Marissa Neitling (Leverage) and Jocko Sims (Masters of Sex), is set to premiere on TNT June 12th.
Regan, one of the new series regulars, and co-creator Steven Kane, were at WonderCon to talk about the upcoming season, Agent Carter and why Kane wanted her for the role of Sasha.
Can you talk about Agent Carter?
Bridget Regan: Agent Carter has been a lot of fun. What I do on that show is very different to what I'm doing now.
How is it different?
Bridget Regan: Well, first of all on Agent Carter, we're dealing with a very different style and tone. It's the comic book world. It's 1940s. It's heightened in a way in terms of the style of the show. I get to play a woman who is dictated by her training and upbringing. She's a soldier in a lot of ways and maybe not the most human mindset, I would say? So, I have a lot of fun playing Dottie, if I didn't I think I have to quit being an actor. It's such a joy.
Season two was great, I'm hoping for more. The Last Ship has been incredible with working out the schedules for me to be able to do Agent Carter and Jane the Virgin. And should both goes go again we;re gonna continue on making it work.
And I love the way on Agent Carter I got to come in and have lots of big fun episodes that are so Dottie central and pop-out. That's perfect for me.
And then your character on this is totally different.
Bridget Regan: Absolutely. My character on The Last Ship, she's a former Navy intelligence officer, she was detailed into defense intelligence and when we meet her, she is in what we're calling new China and she's working as sort of a diplomat, a liaison between countries. But we have to keep in mind that government wasn't what it once was. Since the plague, there's been a big shift in power and how countries are working together, so Sasha is doing the best that she can to keep this new leader of China in line. But there's only so much she can do.
When she's reunited with Tom Chandler [Eric Dane], they have a past they go way back. In some ways, they are more similar than they probably would both like to admit and she challenges him in a way that no one else on the ship does. But at the same time, she trusts his judgment completely and she's on board with him. And obviously, they have this relationship that is not like anyone else on the ship. Meaning, she knows a different side of him that no one else knows. That being said, Sasha is ready to put aside her emotions to get the job done. Which is a great conflict to play.
When you first auditioned for the role, did you get a lot of her back story available to you?
Bridget Regan: Actually, I just sat down with Steven and Hank [Steinberg] and we just talked about the show, we talked about Sasha, we talked about where I was at and things that excited me.
What excites me about Sasha is that she is a woman in a man's world, so to speak, and she handles it so well. But my favorite thing about the show is that it represents these strong women, without question. There's not even a conversation about it. My character, Marissa's character Christina Elmore's character, Fay Masterson, these women are represented so well and I actually feel like it's something that is so positive about the show and how it represents strong women and there's not even a conversation. It's just they're getting their job done. It's not an issue that their female or male.
Steven Kane: If you're in that job then you're doing it.
Bridget Regan: It's really great to be part of. Sasha is an incredibly strong, skilled, smart woman who is equally physically skilled as she is mentally and that's a lot of fun to play because I get to do a lot of cool stuff.
Steven, when Bridget came in, what was it about her that you wanted to hire her?
Steven Kane: It was a hard role. We knew we were asking for a special person because there are strong women and there are strong women. We wanted someone who could have been toe-to-toe with Chandler on a romantic level as well as where you could throw pistol to and she could do that. She can also be a spy and be in an elegant outfit and be a little James Bond-y and fit in and be a diplomat and speak to heads of state in their language. Because a lot of times if you're sort of a warrior, you're not polished. She has to be polished and be a warrior, to be physically strong, but also not imposing or scary.
We obviously new Bridget's work and we met her and then we said, "She seems like a very smart person, a very game person." She's a pro. She's an athlete. Like you give her lines, sometimes at the last minute… Remember that time, I'm like, "I've got some Vietnamese for you. Sorry it's the last-minute." And she went away for five minutes and she came back and she was speaking Vietnamese. And so we are blessed that she's part of the show.
But also, honestly, we work long hours. They work long hours on the set, we work long hours in our offices getting ready stuff ready for them and you don't want people around you that make your day harder and more difficult or miserable. She's brought great new life to the show as a member of the cast. We had a great cast already and she fit right in. Everyone's laughing and having a good time and it makes the day go by. It's a hard show to make. We're not working 18 hours a day but even if you're working 13 hours, it's the hardest 13 hours. You're not just in a California restaurant, you're in a restaurant that we have to make it look like that is on a cliff in Hong Kong during the apocalypse. And by the way, you're not walking in the front door, you're gonna rappel down from a helicopter, you know what I mean? So everything is really challenging and you want people who are just game for it.
And I think the crew is also like that. They know that they could get a job on another show and they could do interior courtroom day, interior law office day and that's great work. But here, they actually feel sort of pride like, "Wow, we pulled that off." You see where we've gone already. We've gone from the North Pole to Africa. We've gone to South America. We've gone to Guantánamo Bay and all across America. Now we're going to Asia. And these guys did at all and we did it all here in LA.
Bridget Regan: My favorite thing is when we have on our call sheet every day, it shows the location of where our set is. My favorite is when it says location and it just says the Pacific Ocean. I love it.
Steven Kane: I always say, if you want to see a good summer fun blockbuster movie on a Sunday night and you can't get a babysitter, just watch The Last Ship.