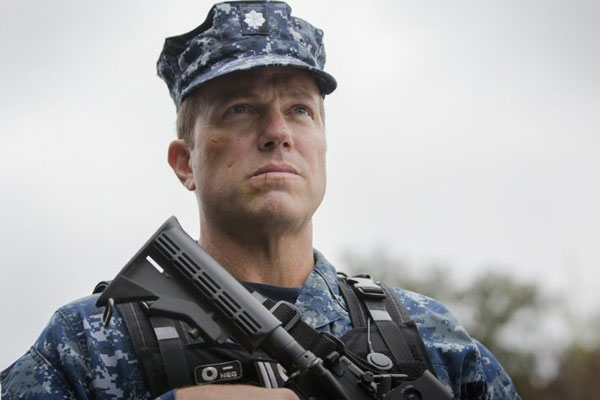 "Roles tend to choose the actor more than the actor chooses the roles these days" – Adam Baldwin
The Last Ship returns to TNT this summer and it picks up right after last season's cliffhanger, with the crew of the naval destroyer, 'Nathan James', turning their attention to Asia. After a pandemic has killed off most of the earth's population, the crew find out that the Chinese leader has been stock piling the cure to the deadly plague instead of distributing it to the people of the region.
The show, which stars Eric Dane (Grey's Anatomy), Bridget Regan (Agent Carter), Adam Baldwin (Firefly, Chuck), Travis Van Winkle (Heart of Dixie), Marissa Neitling (Leverage) and Jocko Sims (Masters of Sex), is set to premiere on TNT June 12th.
Series star Baldwin was at WonderCon to talk about the upcoming season, the joy of filming in the less than perfect conditions and listening to some of Robert Duvall's advice on saying exposition.
So Slattery gets captured?
Adam Baldwin: He gets Captain and he gets captured, yeah. He gets his own command.
In the political realm, our illustrious Capt. Chandler gets bumped to CO, chief of Naval operations and someone has to step up and take control. Yay me. But it's pretty short-lived because of the things that happened but then returned to it. So there's some badness that happens and we're captured for a little while and treated very poorly and there's a lot of blood and we might lose some people. Imprisonment is dangerous.
How did you like filming those scenes after you got captured?
Adam Baldwin: It was great variety to step off the ship and work in that environment. It was cold and raining at times and muddy and gross and wonderful.
Where do you film that?
Adam Baldwin: Just on location in and around Southern California. Jungle, swampy, cold southern California swamp. Movie magic man, come on!
But it was wonderful to take that core group of folks and take them off of the ship and get to work with them in somewhere other than a controlled environment. The bridge of the Nathan James is air-conditioned and pretty quiet when you want it to be. Where we were working was remote and the occasional choo-choo train would go by and mess up the sound. And it would rain on us and would become a mud pit. It was fantastic.
Does that suck for you when you're filming a scene and a train comes by and you're like, "Ahhh!"
Adam Baldwin: Yeah, you see the boom guy just kind of slump. And then when you're losing the light, it doesn't matter, we're going to roll and we'll fix it later.
What attracted you to the role in the first place?
Adam Baldwin: Well, first of all, I've been a big fan of Michael Bay's for a long time. And when I was asked to come in and audition for him, I jumped at the chance. What a great way to work with a guy like that. When they said that I got to go and actually ride aboard a ship, I was sold.
Roles tend to choose the actor more than the actor chooses the roles these days. So, you go where the flow is and I just happen to be blessed to have been hired by great people. So, I put my trust in them and try to be as on time and prepared as possible and just have fun. Even though it's dark, you've got to walk a fine line in this dark post-apocalyptic world.
You've played this guy for a couple years now. When you get on set, is it easier to prepare because you've played him for so long?
Adam Baldwin: Some days are harder than others. The most difficult stuff I've always found is the exposition, the techno-jargon that needs to be rattled off in pitter patter sort of cadence. But Peter Weller who's come in and directed a few episodes for us and whom we love, he was working with Robert Duvall many years ago and he was telling a story about exposition because he doesn't like doing it either. Some people are very good at it, some people have to work harder at it. I have to work harder at it. It's tough stuff for me. But Robert Duvall's advice was you drive a truck through it. That's great advice, just drive a truck through it. Hit it hard and move on. I try to live up to that standard.