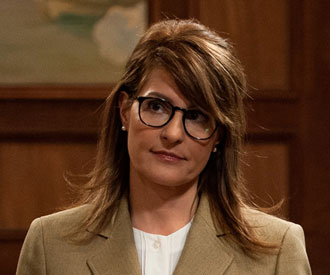 NBC's Law & Order: SVU has had some fantastic guest stars over the years and tonight, Nia Vardalos, joins that ever growing list.
Vardalos stars as a 'disorganized' Defense Attorney who spars with D.A. Barba (Raul Esparza). Barba thinks he's got it in the bag but he soon realizes how tough she actually is.
Vardalos, who started her career at Second City, has always been someone who creates most of her own work and recently, she's been venturing into TV roles. When asked what she likes best about working in Television? Craft services! Coming from an indie film background, she loves it. "I think I'm going to gravitate towards TV so I can eat better," she said.
I talked to her in a conference call to promote her appearance on the show and she was so nice and pleasant, I freakin loved her. In the interview she talks about her SVU character, the opportunity to play a role we haven't seen her do and a memorable off-screen moment with co-star Esparza.
Law & Order: SVU airs on Wednesdays at 9/8c on NBC 

What about this character made you want to play it?
Nia Vardalos: I never get offered things like this. I never get roles where I get to say lines like there is a presupposition. The perpetrator is in that lineup. Never. The roles that I'm offered are usually I stand on a cliff with wind blowing my hair and I kiss a guy way out of my league. Those are my roles.
So this – it was delightful for me to get to go and do something nerdy again. You know I'm from Second City. And Second City girls – we like to you know black out a tooth and play a character, so that was extremely freeing. And I got to work with Mariska, and Raul, and Ice-T. Like it was just a dream. Like every day, I was calling my husband going no way. It's awesome.
What was your most memorable moment from filing this episode?
Nia Vardalos: It happened off camera actually. Raul Esparza leaned into my ear and sang his – the song that I love so much from Company, and I melted and Mariska absolutely cracked up laughing. I mean I was like – I just loved them. They were really welcoming, and really warm, and I told them all what a fan I was of them, and they just let me gush. It was really a nice set.
The description of the character says she is a deceptively tough attorney. And so I'm wondering how exactly that – what your impression was of her when you got the script.
Nia Vardalos: I actually wondered about that as well. It said, "Disheveled," and I wondered am I walking into a room surrounded by a mess like the character Pig-Pen Charlie Brown. You know I really wasn't sure, but the costumer is so good at keeping things from being costume-y and she and I found this really great look that just – it was just a person who is absolutely more focused on her work than her appearance. And we – and the producers and I agreed that I would be kempt, but just sort of nerdy. So not slovenly, but just you know – the case is the most important thing to this person and I just felt that was so freeing. I've never worn more flammable polyester in my life.
You know the clothes, the shoes, the everything were just really forming for me. Like it helped me create this sort of slouchy walk and stuff like that and so that was great, and also, I love that about the show. That things are never what they seem to be. I think the writing is inspired in that way that you think things are going one way and then they go the other.
The cast has such great chemistry already. What was it like jumping in to be with them?
Nia Vardalos: Sometimes, it can feel a little clicky. You know how sometimes you don't realize when you are walking into a new job you are the one that no one knows, and I tend to be a little tentative in new situations and sort of see what it's like, but they didn't even give me a chance.
As soon as I walked on the set, Mariska was walking the other way and she went hey I'm so glad you are here, and hugged me before I had even gone into hair and makeup, or costumes, or anything. Just was so warm. And then when I got to the set in my sort of nerdy outfit with the glasses, they all started laughing and were just like yeah and really fun, so it was a very warm environment.
Was there anything about the role that you added to the role that wasn't originally scripted for you?
Nia Vardalos: Well, my career has been that I write the roles that I get to play and I'm trying to do things now that I don't necessarily write. I would like to stretch as an actor and go back to being an actor, so I consciously did not add a thing to the script to sort of send the message that I am not trying to rewrite everything that I want to be in. I just would love to do more things I didn't write.
Can you talk about how you connected to the character and who you used for inspiration to play a defense attorney?
Nia Vardalos: Yes, I have a cousin to illustrate any situation. You know with the 27 of us – 28. That there is always somebody. And of course, I have a cousin who is a prosecutor and now a judge in Cook County, Illinois.
When I worked at Second City in Chicago, on my days off, I would go and watch here in the courtroom because it was just fascinating to me. And I also, when I was teaching classes at Second City, had a few lawyers taking improvisational classes because they felt that it would make them a little quicker on their feet. So I used my cousin, Anna Demacopoulos, as the inspiration for this character. Not the look, but for the fierceness and the tenacity.
Your work has been predominantly in comedy, so I was hoping you could speak a bit about the process of preparing for a role on a program that's pretty dark by network TV standards.
Nia Vardalos: That's what I just loved about it. In every script I ever read, I am looking for how to make it funnier, how to make this comedy. Is that a comedic line, am I serious here. With this script, it was such a relief to know that we weren't mining the material for laughs. It was just about the veracity of the lines and the authenticity of the scene.
It was so interesting to just be in the moment. I think that's why they are (unintelligible) off camera, because it kind of lightens the mood on the set when you are doing these serious scenes.
You've done a lot of film, so how is it different working on films and then coming to television. Is it the same; is it faster, slower, more enjoyable, less enjoyable?
Nia Vardalos: For me, it's the same because I've only done low-budget films, so I never get the luxury of several takes. We are usually going very quickly ad you know the camera barely moves. Whereas now in a TV show like this, with multiple cameras, a very experienced director, a crew with DP, if anything, it's almost a step up for me from the productions.
Like I remember when we were shooting My Life In Ruins in Greece, we were so independently financed that we were afraid we were going to be shut down at any moment. That film was a negative pick up for FOX.
My movies are always on a wing and a prayer. When I shot I Hate Valentine's Day, it was so low budget, an 18-day shoot. My camera never moved. I'm sure you noticed. I had so little. For my directorial debut, I had so little footage to cut from that during John Corbett's speech, if he (fumford) a line and I had to cut away from him, I had to use my stupid expression staring off camera.
Like I had nothing. I had nothing. My God. It was terrible. I couldn't even cut to a lamp. I used every – there was nothing for outtakes even. I used every shred of film on that thing. So anyway, then I get to a set like Law & Order SVU that has been – you know it's a well-oiled machine.
It's like when I did Grey's Anatomy last year. The craft services is incredible. You know the lunch they serve is like what are we having a royal wedding? I think I'm going to gravitate towards TV so I can eat better.
How tough are you on Law & Order. We've seen you be so funny, and sweet, and everything. Are we seeing the tough Nia in this show?
Nia Vardalos: Yes, I love the character because I get to be pretty intense in a couple of the scenes and come right up against Raul Esparza's quite condescending character. And I don't know if he normally plays it condescending, but he really played it so well. in some scenes, he was so sort of abrupt with me that it made me blush. I just – he's just so good. Because you know, no one wants to feel that way, and he just made it so real.
So yes, I mean it's one of those roles that I just could not believe that was offered to me. I always say it's a sign of the rapture when the skies part and a role gets offered to me that's not a romantic comedy, so I was delighted.
You recently adopted a daughter, how has being a parent affected the choices you make in taking roles or even just the decisions you make in portraying them.
Nia Vardalos: I've always been attracted to roles that speak to my sense of comedy, which is come laugh with me as opposed to hey let's laugh at them. I feel that I am really a product of my parents and very kind and compassionate upbringing. And being from a very large family much like you described, that is always gently poking fun at each other, but never making fun of each other if that makes sense meanly.
And so I have not changed that way in terms of my taste, but what happened when I became a parent is I had to willingly step back from taking roles that would take me away from my daughter until I could settle her. I have absolutely no regrets about doing that, but it was difficult to do and I chronicle that in the book.
What my husband and I did to settle a preschooler into our home was – probably some people would disagree with it, some people would agree with it, but we had guidance from social workers, we had therapists, and we had a lot of help from my family and friends. And it was the most interesting thing I've ever done.
And then roles come up that are interesting like this and occasionally I say yes. I always hear the surprise in my agent's voice when I go yes, I will do that and they are like, what, really, okay, because you know I'm sorry, but I do say no quite often. And I know the result is that the phone will not ring as often, but it makes me happy that I'm here for every milestone of my daughter.