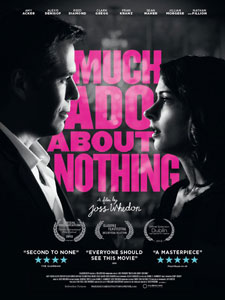 For all of you Joss Whedon lovers (and who isn't?), here is the full WonderCon panel for his new film, Much Ado About Nothing.
I'm not a huge Shakespeare fan but what Joss' done, at least judging from all of the clips they showed this past weekend, I'm definitely going to catch it. He's set it in modern day, is funny (very funny) and it looks like it's going to be assessable to a mass audience.
The arena was packed with fans and everyone on the panel was loving it. The panel featured Whedon, Clark Gregg, Romy Rosemont, Tom Lenk, Riki Lindhome, Jillian Morgese (who was basically an extra in The Avengers, met Joss and the rest is history) and a few more of the cast members.
The video is shaky and a bit grainy because I took it with my phone so sorry in advance. 
Check it out below! 
Here's the trailer: