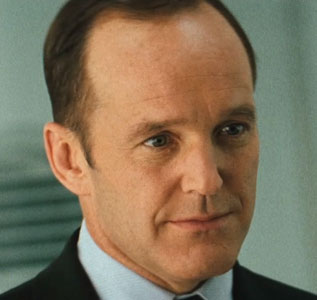 Clark Gregg has gone from an actor with a recognizable face to one of the key crossover characters that links the Marvel superhero movies together.  As S.H.I.E.L.D. agent Phil Coulson, Gregg has appeared in Iron Man, Iron Man 2, Thor, The Avengers, and two "mini-movies," which has brought him to a level of fame he hasn't experienced before. 
However, Gregg — who wrote, directed, and starred in the 2008 movie Choke — spoke to New York Magazine about his ambitions behind the camera — which, of course, includes superheroes.
On why Gregg wants to direct more films, he says, "Sometimes being an actor is being a song in someone else's mixtape, so I really understand why more and more actors are making films of their own. It makes perfect sense to me. And I've got a neo-noir story about the underbelly of Los Angeles and a talent agent for child actors. It's not dissimilar to Chinatown, in the levels of betrayal and trauma."
So what about directing one of Marvel's movies?  Gregg is very receptive to the idea, revealing, "I definitely talked to them about that and other ways to get more involved. I would want to really focus on the characters and the humor, and I'd probably be more drawn to S.H.I.E.L.D. backstory stuff. I really like the relationship between Natasha Romanoff/Black Widow and Clint Barton/Hawkeye, so I'd be interested in exploring that. On the other hand, I'd really like to see what I could pull off in terms of the special effects and how I could realize that kind of vision."
I figure since Gregg has devoted so much time to developing the Agent Coulson character he deserves a shot as a Marvel director, right?