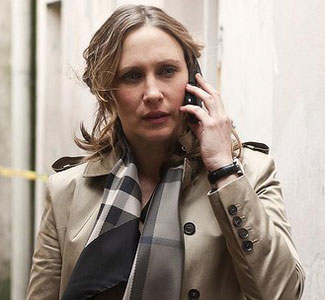 Tastefully straightforward and funny, actress Vera Farmiga gave SMH time out of her busy schedule to discuss her recent role in the movie Safe House, a thriller where she co-stars alongside Ryan Reynolds and Denzel Washington. 
Farmiga plays Catherine Linklater, a CIA agent who is on the hunt for a trader and former agent selling spies U.S. secrets.
Sharing some of her own secrets, Farmiga jokes about her character, a role originally written for a man.   "My feeling is that there was probably a lack of estrogen in the cast.  I guess there was a great dearth of female characters, so they decided to take Linklater and give him a vagina." 
The Higher Ground director did take on the role for what she says is "for obvious reasons.  It's the kind of film where the probability of it being successful is high, given its pedigree." 
"And unfortunately – well, not unfortunately – the truth of it is that you have to balance the kind of career that I have, which is small, independent films that nobody sees, like Higher Ground, which are real projects of the heart, with things that will keep your digits up, she adds.  Safe House is that kind of an opportunity for me. It's not so much for credit, it's also for stability."
She also weighs her options a lot more than some performers admit, playing it safe because of the financial aspects.  "You earn very little money on independent films and I'm the provider for my home, so I do have to think of taking one for the accountant time and again and that means studio pictures." 
For the New Jersey native balancing mainstream roles and taking on indie flicks has its advantages as she explains.   "[You're not going to hit] a home run every time but it's true, box-office clout is a real thing to consider for financing for distribution, it's just part of the equation. When producers consider hiring an actor or actress, they're also looking at who will sell this film abroad."
During her interview with the outlet, Farmiga also addressed those long running rumors that she burns the scripts she doesn't like.  "It's not as anarchic as the media would like it to be.  I live in up-state New York and we don't have proper garbage disposal, so we have to take our trash to the transfer station and separate the plastics from the burnables. My scripts are watermarked and I don't want them to end up being sold in St Mark's Place in the East Village with my name on it, so it becomes fertilizer and the ashes get dispersed on my garden. But the media has turned it into something far more volatile!"
Watch Vera Farmiga in a clip from Safe House below.