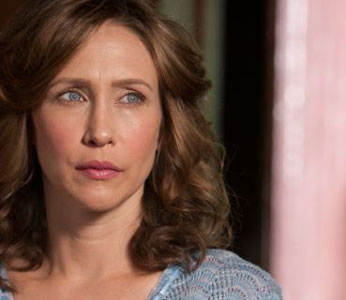 Most are probably wondering why Vera Farmiga would decide to step behind the cameras, after all she has a long list of outstanding roles in a slew of blockbuster hits. 
So why tinker with success?
The thirty-eight year old star was sick of the way woman are portrayed in Hollywood.  "They are not as sharply edged, they tend to be quite watery. They [major films]are not renderings of women as I know them."
Farmiga decided to take on the challenges of directing and starring in the film Higher Ground (released Aug. 26th), all while being five months pregnant.  Sitting down for an interview with the WSJ, she talked about hectic deadlines and the pressures with such a large project.  "I was feeling very invincible in my second trimester. There were a lot of hormones. In hindsight, I think I was operating on a whole other level of creativity."   Farmiga's directorial venture, that follows her character, Corinne Walker, "an ardent evangelical Christian who comes close to rejecting her close-knit but closed-minded community after experiencing a heartbreaking, inexplicable loss," also became somewhat of a family affair.  Vera's young son also snagged a part in the film, as well as her younger sister, who has never acted before.  "I texted her [last summer]and said "We'll put [Farmiga's son] Fynn in the film and you can play his mom. You play me at 16. I'll give you my Toyota Tacoma. She just wanted to hang with her older sister and have one of these romantic sweet 16 summers."
After acting for years, and then making her move into directing, Farmiga undoubtedly learned a few new things as well.  "This film deals with this abstract theme of openness, receptivity, courage. And now that I've been on the production side of what it takes to make a film, I can understand the faith it takes to splurge on a film. There's an awareness and appreciativeness I haven't experienced."
The big question – will the Higher Ground actress plan to take on directing in the future?  "If it means creating better opportunities for myself and other gals that I believe in, then yes, absolutely. But it's gotta be something that clobbers me over the head for the amount of commitment it requires."
At the end of the day she isn't the first  lady of Hollywood to complain about the simple and one dimensional portrayal of woman in film.  Martha Marcy May Marlene actress Elizabeth Olsen also recently voiced her opinion on the matter as well.  Hopefully we'll see both of these successful actresses continue to pave the way.