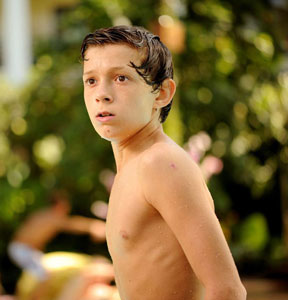 Although Tom Holland is only 16 years old, he will not be letting his new found fame go to his head.  After starring in the critically acclaimed film, The Impossible, Holland knew he might be getting some additional attention.
"My agents and I had a sit-down chat that the next couple of months could be a whirlwind," the British actor told The Wall Street Journal.  "They said, 'Make sure you stay grounded.  It's very easy to go down the wrong route.'"
This is sound advice for someone who has already won the Breakthrough Performance Award by the National Board of Review and the Spotlight Award by the Hollywood Film Festival.  But Holland is not a complete rookie in the world of show business, having started his career playing the lead role in Billy Elliot in the West End.  Despite his experience, the actor struggled while making the transition from stage to screen.
"The change was difficult.  On stage you need to emphasize every emotion," he said.  "But on screen you need to tone everything down and make it believable.  Naomi [Watts, his costar in The Impossible] was so giving.  She really did elevate me.  She took my hand and never let go."
The Impossible, which tells the story of one heroic family's survival during the 2004 Thailand tsunami, is playing in theaters now.