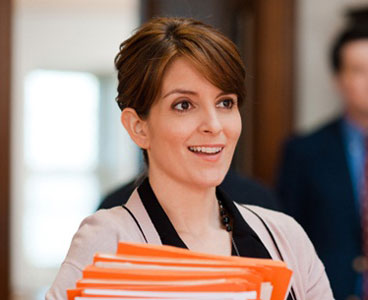 Now that Tina Fey is leaving her show-runner position behind with the end of 30 Rock, she'll have to get used to the fact that she's not in charge anymore.
"I had the luxury of saying, 'Don't use that take.  And get off that shot before I turn around,'" she said in an interview with SFGate.com.  "I framed out my posterior.  It's nice to have that kind of control."
But with Fey's next project, the film Admission, she had to put her boss hat aside and focus on being in front of the camera.  Fey didn't specifically set out to find a more dramatic role that would demonstrate her skills.  When asked why she chose the film, she said, "I was looking for something that was a good movie and a good part.  The fact that this had a deeper emotional level was appealing, but no, I didn't set out to show my [acting]chops."
Fey, who plays an admissions officer from Princeton who discovers she might be the mother of a teenage boy, was initially drawn to the writing.  "The script was very well written," she said.  "I met with the filmmakers a couple of years ago when they were first developing it.  The only thing I really remember from it were one or two actual sex scenes.  I said, 'Well, they've got to go.  I can't do that.'"
One of the biggest advantages to doing the movie was Fey's scenes with legendary comedienne Lily Tomlin (who plays her mother.) "I think we quickly found a rhythm of the way we like to operate in scenes, which is like getting down the master and then feeling free to improvise a teeny tiny bit here and there," Fey said.  "And if you improvise in a scene at all, she is so present.  You can almost see it spark: 'Oh, there's something a little different, I have to react differently.'  She's just very alive as a scene partner in a way that you don't always find."
So, what will be next for Fey now that she's not tied down to a TV show?  "I am technically a member of Actors Equity, so I could do a play whenever anyone calls, because I'm in the union," she said.  "I would need some kind of microphone in my hair because my problem onstage has always been that you can't hear me.  I've been told by my acting teachers that I have a weak instrument.  A small voice."
Looks like with all of Fey's talent, it hardly matters.
Admission opens in theaters Friday, March 22.