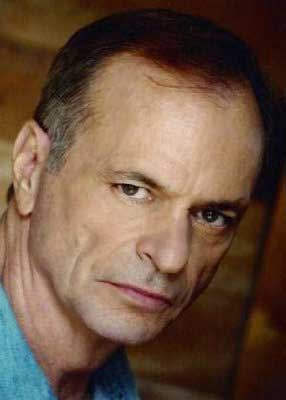 From chicagotribune.com:
Q. You and your character seemed to fit right in from the start on "Mad Men." What was it like to work on the show?
A. There are places you go to work where you're immediately made to feel at home and everybody's there because  they want to be there. Nobody's just putting in time. That's the atmosphere on "Mad Men."
In my considered opinion, (the tone is set) from the top. And the director and producers of "Mad Men" couldn't be nicer. That's always been one of the things that has made an experience exceptional –— when the director absolutely believes in what he's doing and he's filled up with the prospect of bringing this (story) to life and making it as real for everybody else as it is for him. I used to work with a director named David H. Bell at the Marriott Theatre in Lincolnshire. He had that same kind of infectious quality about him, (the attitude that) nothing is small about what we're doing if we don't belittle it and (if we) believe in what we're doing.
Jon Hamm is truly a down-to-earth Missouri guy, he brings his dog Cora to the set most days. I had a great time with Robert Morse, he's fun and he's so good and his resume is jaw-dropping. He's really an actor's actor. It's a good group. I'm glad that it looked like I belonged there because I'd like to go back.
Q It's obviously too soon to know what "Mad Men" creator Matthew Weiner has planned for Season 4, but the door was left open to Hilton's possible return someday. Would you like to go back?
A. Of course. It's a great character. You know the saying about people living lives of quiet desperation? That's really the essence of almost all drama, the desperation in people's lives. I think that Connie sees in Don the kind of active desperation, not quiet desperation, that (Connie) had in him when he was a young man. That same sort of drive. That's why they  complemented each other so well.  Connie is a bigger-than-life character to begin with, and Matt and the writers sharpened that.
Q. There were so many levels to that relationship between Don and Connie. Do you think that Connie really thought of Don as a son, or was that something he told Don to get him to work harder?
A. There are levels to that answer too. The fact is that Conrad Hilton had a history of finding the brightest and the most eager, putting the leash on them for a little while and getting what he could, and then turning them loose. With Conrad Hilton, it was and always is a testing period. "I threw you this little bit; let's see if you can do that, then I'll try you on bigger things." If circumstances had not conspired against the continuation of the relationship, I think that he would have given Sterling Cooper and Don Draper more. [But the agency merger] made that impossible for him to do.
I think the fact that Connie puts it right back in his face when Don starts whining a bit –— it's that next level in the Connie test. "You did good so far; you were what I thought you were. Now it's time to go out and do it on your own." That's the impetus for the next chapter in the story. Don sucks it up and says, "Yes, this is a turning point."
I had an interesting conversation with ("Mad Men" creator) Matt Weiner one day. He told me that way back in Season 1, he and Jon Hamm had a discussion in which they decided that there was no way, if the series continued, that Don Draper could stay at Sterling Cooper (indefinitely). It would not be a fit. It would be way outside his character to end up there (for his entire career).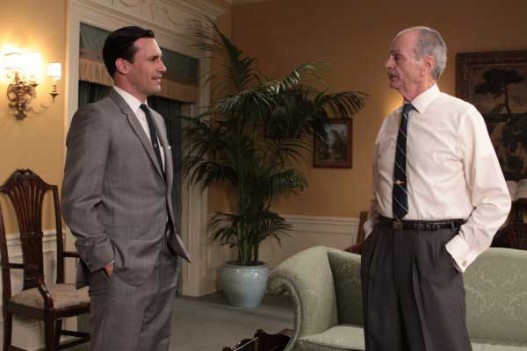 Q. Did you do a lot of research on Conrad Hilton before playing him?

A. With actual characters, with historical characters, I like to get as much information as I can, as long as it's information that the character would have. In 1963 (when the third season takes place), Conrad Hilton was 76 years old, so anything that happened to him before that was useful to me. Anything that happened after that or any comment we make on him in retrospect, I don't want to see that. A lot of times in a script, I don't want to know what other characters are doing, because it has nothing to do with me and it may be great entertainment when I see it on the screen, but I don't want it to color my performance.
And thankfully in this case I didn't have to answer to Conrad Hilton. When I played Dan Devine in "Rudy," (he didn't like it). He thought we portrayed him as a really mean guy. Well, he's a college football coach; I mean I can't imagine him ever yelling at anyone [laughs].
Q. When I was thinking about Connie, I was thinking of words like "evangelist," "idealist," "businessman." How do you see him?
A. I've used those same words. I think he's a zealot, and his zeal was focused on one particular area — his business. They don't get into it on the show but Conrad Hilton's private life was just about as rocky as Don's. He left behind women, he worked all the time. But his zeal for what he's doing relates to his business and his belief in God and America and what it can bring to the world. He feels that's his mission — to bring America to the world, and he has bought into it 100 percent.
Q. His zeal takes a toll on the people around him, though.
A. Oh yeah. But Don comes out of this fine because he's got that backbone of iron, like Conrad Hilton is. He'll drive right on. But other people that he casts aside are maybe not that strong.