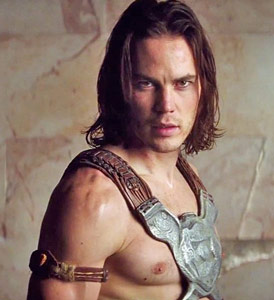 Count me as one of those disappointed by John Carter's poor performance at the U.S. box office.  The film didn't deserve its poor reviews (with many film critics focusing more on the project's budget than the quality of the actual movie itself), which I think is somewhat proven by the its much stronger overseas performance.  Disney had a potential franchise — there are eleven books in Edgar Rice Burrough's Barsoom series — on its hands, so execs couldn't be very happy it turned out to a dud, either.  And without out a doubt one of the most disappointed is John Carter himself, Taylor Kitsch, who spoke to Entertainment Weekly about he finds most disappointing about the movie's performance.
Despite the movie's misfortune, Kitsch says he has "absolutely no regrets" about his film debut, even adding, "I would do John Carter again tomorrow.  I'm very proud of John Carter. Box office doesn't validate me as a person, or as an actor."
In fact, Kitsch is outright disappointed that its likely that he won't get to work with the John Carter production team and cast again.  He admits, "I'd love to go do John Carter 2.  I really would. It's just shitty I don't get to work with the [John Carter] family. It really was a special thing."
But Kitsch isn't going to lose any heart about his career.  "I'm going to keep working," says the star of the upcoming Battleship and Savages, adding, "It's an exciting time."
It would be a lot more exciting if Disney's usually second-to-none promotional department didn't forget that the Mouse had a film coming out in March.  Not much Kitsch could do about that now except move on to his next projects.