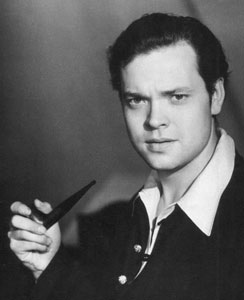 And you thought actors had issues running their mouths on social media…
It's amazing what bits of pop culture history get rediscovered once people start looking in their closets, attics, and garages.  One of the latest finds are tapes recorded by Orson Welles several years before his death that he planned to use to write an autobiography (which he never finished).  Director Henry Jaglom, who was a friend of Welles', recorded the tapes over the course of several lunches in 1983.  He found them in his garage and offered them to film journalist Peter Biskind (Easy Riders Raging Bulls, Down and Dirty Pictures), who will publish the contents in his upcoming book My Lunches with Orson.  And Welles certainly had choice words about his contemporary actors.  His comments include:
Laurence Olivier: "Stupid," and called his first two scenes as King Lear in a BBC production, "the worst things I ever saw in my life."
Spencer Tracy: "I'm having a hard time trying to think of a great Tracy performance … He was gigantic in Judgment at Nuremberg, although it is not a great picture… He was just a hateful, hateful man."
Charlie Chaplin: "Arrogant."
Joan Fontaine: "Two expressions, and that's it."
Norma Shearer: "One of the most minimally talented ladies to appear on the silver screen."
Marilyn Monroe: "She was a girlfriend … I used to take her to parties before she was a star … I wanted to try and promote her career. Nobody even glanced at Marilyn."  He said that at the time producer Darryl Zanuck wasn't interested in her and claims he said, "She's just another stock player. We've got a hundred of them."
Bette Davis: "I never could stand looking at Bette Davis, so I don't want to see her act."
Jennifer Jones: "Hopeless."
On Rear Window: "I've never understood the cult of Hitchcock. Particularly the late American movies … Egotism and laziness. And they're all lit like television shows … I saw one of the worst movies I've ever seen the other night [Rear Window] … Complete insensitivity to what a story about voyeurism could be. I'll tell you what is astonishing. To discover that Jimmy Stewart can be a bad actor … Even Grace Kelly is better than Jimmy, who's overacting."
Of course, it wasn't all bad.  The Citizen Kane director also handed out some praise, calling frequent collaborator Joseph Cotten "brilliant" and said that John Wayne had "some of the best manners of almost any actor I've ever met in Hollywood."  He also praised Carol Reed, who directed Welles and Cotton in The Third Man, but criticized screenwriter Graham Greene, who also wrote a novel based on his Third Man screenplay.  Welles added, "His authorship is greatly exaggerated … Graham wrote the novel after the movie."
But there's a lot of venom — during one of the tapes he is approached by Richard Burton, who was having lunch with Elizabeth Taylor and asked if she could meet him.  Welles responded, "No. As you can see, I'm in the middle of my lunch," and later said, "Burton had great talent. He's ruined his great gifts. He's become a joke with a celebrity wife. Now he just works for money, does the worst shit."
He also complained about having to make movies with miniscule budgets (several of which he never completed), saying, "I have to make pictures … much cheaper – [requiring] more ingenuity and faking … yet they will be judged by the standards of the time when I had more money."
Certainly Welles might have never expected the tapes to ever be released publicly, but it's not the first time audio tapes of Welles at his less than best has surfaced.  Who could forget his frozen peas commercial sessions?
via The Guardian