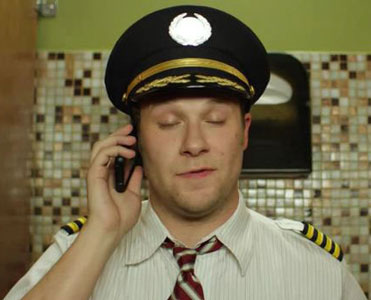 Seth Rogen has probably set the bar of good taste back a few dozen yards in his films, but believe it or not even he has limits.  He actually ended up crossing one of those lines in his cameo in For a Good Time Call…, but as he tells New York he did it all for his wife, Lauren Miller, as twisted as it sounds.
For A Good Time Call… was produced and co-written by Miller, who also stars.  She is also just about to celebrate her one year wedding anniversary with Rogen so Miller asked her husband if he would appear in her film.  Rogen recalls, "She asked me [to do it]one night when we were getting ready for bed.  And I think I just said, 'Yes.'… I was honored."
But Rogen's role was a phone sex caller who masturbates while on the line.  But as envelope-pushing as Rogen's movies have been, he admits being uncomfortable filming this cameo.  He says, "I have to say: I've done some pretty risqué shit in movies, but I don't think I've ever jerked off in a movie before.  And it really threw me for a loop. If you look, I'm not really moving my arm that much. I was a little squeamish about doing it hard. [Ken] Marino [who also cameos]is going for it; he went full jerk. [Laughs] I was more gentle. It was embarrassing, a little bit."
Here's a video of Lauren Miller and co-star Ari Graynor talking about Rogen's day on-set.