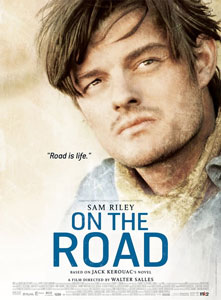 A film adaptation of Jack Kerouac's famous 1951 novel, On the Road, has been in the pipeline for years but this December, the Beat Generation story will finally be hitting theaters starring a British actor, Sam Riley, as Sal Paradise.
Riley definitely had reservations about taking on the well-known role.  In an interview with The New Zealand Herald, Riley said, "When Johnny Depp was saying how he was glad that he was too old to play Kerouac because there would be too much pressure, I thought, 'Well, if he is saying that, how will I fare?'  Although I had a lot of anxiety and wasn't sure which way it would go, I couldn't say no, could I?  Any young actor would kill for the opportunity."
Garrett Hedlund was cast alongside Riley as Dean Moriarty, and the actors were required to go through a 'beat camp' which involved a road trip of sorts to help them bond.
"I am a Yorkshire man and Garrett is from Minnesota," Riley said.  "We couldn't have had more different upbringings and experiences, but for whatever reason we were chosen to play these two guys at the moment when the movie finally did get made.  That sort of glued us together because it's something that no one else understands or has gone through.  Garrett and I spent six months living in each other's pockets.  He was the first person I saw in the morning and the last person I saw when I went to bed.  That can be hard on any friendship, never mind two egomaniac actors."
On the Road will hit theaters December 21.