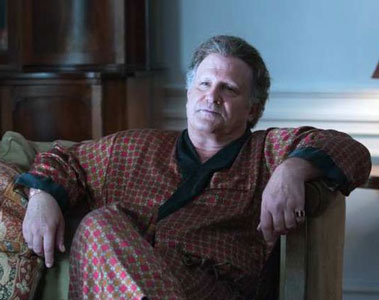 I think Hugh Jackman and Albert Brooks are neck-and-neck in the number of Daily Actor posts about them in the last six months, with good reason — both actors had a fantastic 2011. 
But while Jackman received praise for doing what he does best, Brooks has received praise for doing something completely different in his role in last year's Drive. 
At the New York Film Critics Circle dinner — where Brooks collected the Best Supporting Actor award for Drive — Brooks admitted to the audience of critics that any actor or filmmaker who claims that he or she doesn't pay attention to reviews is lying.  "If you have a living relative, you are going to know what the review is." 
As for his role in Drive — which saw Brooks as Bernie Rose, a sadistic villain, rather than his usual funny self — he isn't surprised that people didn't expect that he could play that type of character.  "People are busy.  They don't have time to think what I can do."  He adds that outside of his own movies (Brooks is a prolific writer-director) that he has always wanted to play a villain, saying, "In down times, the parts that I've wanted are those kind of parts, because I knew I could play them interestingly."  He points to normally serious actor Philip Seymour Hoffman, who played the villain in Mission: Impossible III, which was a role Brooks wanted — put his reputation preceded him.  "I got a hold of that script and I really wanted that part and the guy directing the movie said, 'I'm a big fan but I just don't see it.'"
But Brooks points out that it was a Hollywood outsider who saw his villainous potential.  "It took a Danish guy [Drive director Nicolas Winding Refn].  They came to me, I went to his house – he was in Los Angeles.  Some of it was awkward, some of it was pleasant. And they offered me the part the next day."
Being a writer, Brooks did a bit of extra homework on his character in Drive, penning an extensive backstory for Rose.  For Brooks it helps him understand his character.  "I find it's helpful just to know about things in your mind.  You can put it away. Because that's what real people do. Real people walk into a room knowing where they've been the day before and what's happening to them. It makes the present easier, if you know the past."  In fact, Brooks even tried to write more from the character's point of you, explaining, "I even did some things where I wrote a letter from Bernie to his ex-wife just to see what it would sound like."
With Brooks also winning other awards for his villainous turn he's emerged as an Oscar favorite.  Not bad for a guy who nobody wanted to cast as a villain.