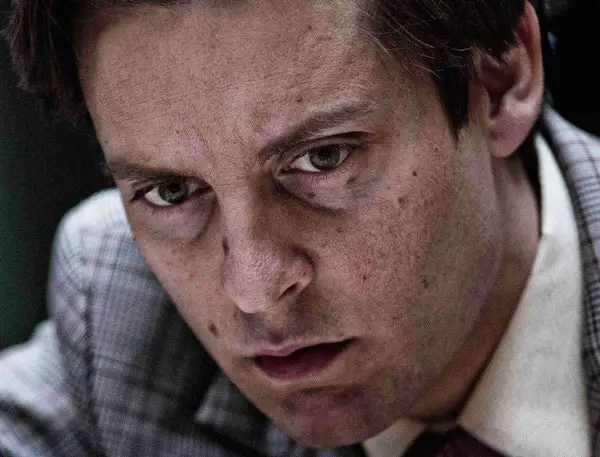 Vulture is posing an interesting question to some of Hollywood's leading men: "Where are the new Leos, Tobeys and Jakes?" While there seems to be a crop of up-and-coming young female stars, the men seem to be lacking.
The publication spoke with Tobey Maguire about this issue and he gave them an interesting perspective on the topic.
"Movies now have more to do with an aesthetic," Maguire said, "than they do with a performance. Growing up, it was always my ambition to work with great actors and great directors, and it was Leo's ambition, too, so that's what we were focused on and aiming for. Parts like those start to shape you as an actor, and they shape people's perception of you, too. Leo going into This Boy's Life at 15 years old and working with Robert De Niro, that shapes the rest of his career — and the studios aren't [making] many movies like that anymore."
The Great Gatsby star even proves his point by mentioning that his current film, Pawn Sacrifice, was made outside the studio system. The Bobby Fischer biopic couldn't find the funding from the major players.
Besides the lack of quality films in the medium-budget range, Maguire explained that fame is sometimes to0 easy for the young stars. They get lazy early on in their careers.
He shared, "You don't have the opportunity these days to develop good habits, or maybe even the desire to. If Leo [DiCaprio] and I were young now, I'd still aspire to work with great people, but those jobs don't exist anymore. I would feel like my only opportunities were in YA franchises and superhero movies. You can hold out for something better only for so long until you're like, Okay, I need a job!"
In fact, it's why stars like Bradley Cooper, Chris Pratt and even Tom Hardy are finding stardom in their 30s versus their 20s. However, there is one young actor Maguire thinks everyone should keep their eye on — Jack O'Connell. He's currently in Starred Up and Angelina Jolie's upcoming film, Unbroken.
At least their is one male star on the rise.