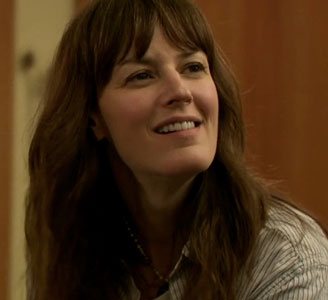 Rosemarie Dewitt has had her share of playing the more normal sister—with Anne Hathaway in Rachel Getting Married and Toni Collette in The United States of Tara but in the new indie, Your Sister's Sister, she finally gets the chance to play the screwed up sibling.
In an interview with The Wall Street Journal, Dewitt talked about her experience making the film and how she ended up taking the role of Hannah after another actress dropped out at the last minute.  As luck would have it, however, she didn't have to worry about memorizing her lines, as the script was almost entirely improvised.  She said, "A scene might just say, 'Iris and Hannah talk in bed about Iris's feelings for Jack.'  We knew the plot points we had to get to.  Sometimes, we wouldn't get to them, so like a sports team we'd huddle up after every scene."
Because there wasn't technically a script, Dewitt wasn't aware of the specific tone for the film.  "Lynn [Shelton, the director] gave us a copy of the film to see before we went out to festivals.  I didn't know it was funny then, either.  I saw it with an audience at Sundance and thought, 'What are they laughing at?  We were playing it all for truth!'"
Dewitt, who stars alongside Emily Blunt and Mark Duplass in the film, has an interesting approach to how she chooses roles.  She said, "Different scripts fall into your lap at different times.  Usually, it's the thing you need to be examining in your own life.  I don't make a big differentiation between, 'Oh, this is a job that's going to pay the mortgage,' or 'This is something I'm basically going to pay them to do.'  Your soul tells you what you need next.  When all of a sudden you respond to bathroom humor in way you never have before, maybe it's because you need a break from excavating down in the depths."
Your Sister's Sister is in theaters now.