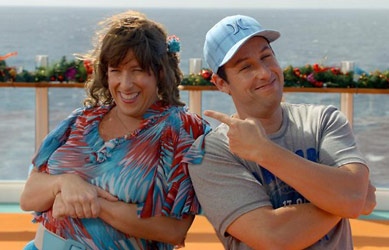 While the casts of The Artist, The Help and The Iron Lady were celebrating their Oscar wins at the 84th annual Academy Awards Sunday night, box-office darling/critical dartboard Adam Sandler was likely trying to distance himself from some dubious honors he was recently nominated for.
The former Saturday Night Live actor is up for a record 11 Razzies, which celebrate the worst of Hollywood each year.
The 45-year-old's 11 nominations shatter the previous single-year record, set by Eddie Murphy, who starred in 2007's much-maligned Norbit. Meanwhile, Sandler is being recognized for his role as a star, producer or writer on three instant classics – Jack and Jill, Just Go With It and Bucky Larson: Born to Be a Star.
"It's almost karmic for someone to have made that much razz-able stuff in one year," said Razzies creator John Wilson to Entertainment Weekly. "He has angered someone really powerful, I would say."
Sandler is nominated for both Worst Actor and Worst Actress thanks to his role in Jack and Jill, in which he did double-time as a brother-and-sister combo. He also racked up a Worst Actor nod for Just Go With It and a Worst Screen Couple nomination for each movie. Bucky Larson, which Sandler produced, is being considered for both Worst Picture and Worst Prequel, Remake, Rip-off or Sequel.
Sandler's trilogy certainly has some stiff competition in New Year's Eve (especially in the Worst Rip-off category), Transformers: Dark of the Moon and The Twilight Saga: Breaking Dawn — Part 1. Appropriately, Razzie winners will be announced on April Fool's Day.