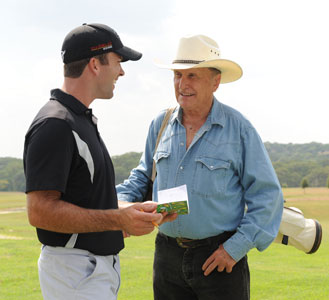 He may have recently turned eighty years old, but Robert Duvall is still churning out intriguing and entertaining movies. 
His latest, Seven Days In Utopia, from director Matt Russell, follows a once successful professional golfer, his hideaway in a small Texas town, and a range of human emotions that delivers the single but universal message of faith.
In the movie, that was just released on September 2nd, Duvall plays Johnny Crawford, a man and mentor to the golfing pro who ends up leaving the game behind after an emotional break down on the course.  Talking with NCTimes, Duvall touched on what drew him to his character. 
"He's a nice, humane, very good character.  His philosophy is, don't be just a farmer, or a man who lives on a farm, but understand your work and your role in life, and most importantly, have a good sense of yourself."  Duvall may not be a golfer himself, but he still connected with the part easily. 
"The character arrived naturally.  I do a little research, then I go with my instinct and jump right in," Duvall said of his process. "I like doing different things —- urban films, country films. I've enjoyed working in Texas since 'Lonesome Dove,' because the people are always very welcoming. I've worked in every state except Hawaii and Alaska, but whenever a project calls for a small-town, rural setting, I'm happy to go."
With Seven Days in Utopia now officially over, it looks like Duvall has decided to keep moving forward with his work in film.  "There are a lot of things coming my way.  I'm happy with how it's going. I enjoy the shared experiences along the way." 
The veteran star is now on board the TV movie Hemingway & Gellhorn and films, Jayne Mansfield's Car and Mississippi Wild.