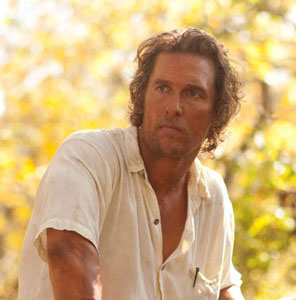 Although Matthew McConaughey recently claimed that his recent decision to pursue better quality roles in acclaimed movies wasn't a conscious decision, he admits to Yahoo! Movies that he did make the decision to improve his acting by taking a close look at as many negative reviews about himself that he's received for such critically panned movies as Ghosts of Girlfriends Past and Failure to Launch.
He reveals, "A few years ago, I did a really interesting kind of experiment.  My assistants gathered every negative review I've ever had and it was a good, thick pile. I sat down and said, 'We're gonna read every one of these.' There was some really good constructive criticism. I'm like, 'That's what I would've said about that performance. You're right.'"
However, not every review was negative.  He points out, "What's nice is when you read a review and … it's almost exactly what I wrote down before I ever did the picture of what I was tryin', who I thought the guy was. So I go, 'Ah, it translated.' The word was never spoken but they got that out of the performance."
Lucky for McConaughey, he'll probably get a lot more of the latter reviews for his latest film, Mud — including our glowing review — than the former.