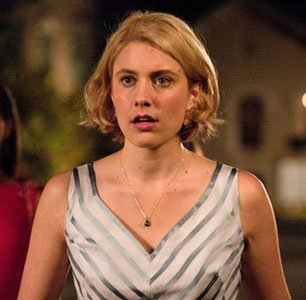 Indie actress Greta Gerwig was ecstatic to be a part of director Whit Stillman's new film, Damsels in Distress.  She recently spoke with Interview about her experience shooting the movie, which also stars Adam Brody and Aubrey Plaza. 
The movie's intense dialogue led the actors to do extra preparation.  She said, "The rehearsal was more dance rehearsal.  A lot of the rehearsal ended up being done in the minivan on the way to set every morning with all the girls.  We would speed our lines and work the scenes because we would know once we got there we wouldn't have many chances to get it right.  So I think it was definitely something we took upon ourselves."
The extra rehearsal helped with some of the more difficult dialogue.  Gerwig said, "The rhythm is so built into it, you don't have to try to have the rhythm, you just do it; by doing it, the rhythm will natural sink into you.  It's like Shakespeare in that way—you don't have to speak in iambic pentameter, it's written in iambic pentameter.  So if you're doing it right, and saying the words right, it makes sense that way.  So it wasn't so much conscious as it would just happen, spontaneously, as a result of knowing it and doing it right."
Damsels in Distress is in theaters now.