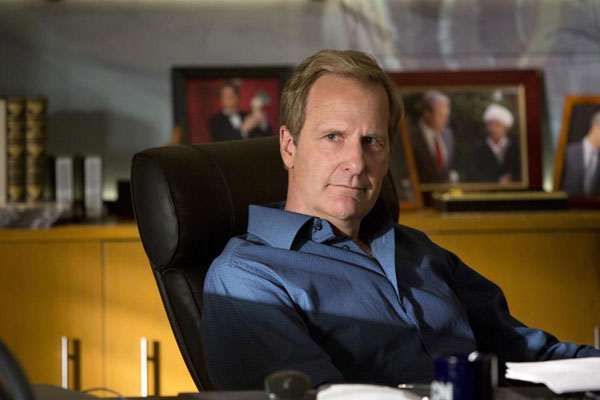 Over twenty years ago, Jeff Daniels was on the phone with two agents who were telling him he was about to ruin his career as a dramatic actor by starring in the Farrelly brothers comedy Dumb & Dumber. Today, Daniels is more popular than he ever has been after starring on HBO's The Newsroom (which he won an Emmy for) and a $36 million opening weekend for the long-awaited sequel to Dumb & Dumber. He spoke to Vulture about his five-decade acting career, his delayed success, and the trouble with aging gracefully into older roles.
It would be understatement to say that Daniels has a history of taking on varied roles. He stars in the 1993 Civil War epic Gettysburg, which is required viewing for History classes throughout the country. However, just a year later he starred in two of his most popular movies, the action thriller Speed and the slapstick comedy Dumb & Dumber. Those three performances alone highlight Daniels' versatility, of which he says, "I made a career on range, so there's the range. I couldn't have planned it better."
Of course, though Daniels has worked steadily as an actor since the early 1980s, it wasn't until The Newsroom premiered in 2012 that Daniels felt that he really arrived. On his late-coming success, he points out, "At 21, driving through the Holland Tunnel, your eyes wide open—if I'd have slipped into the passenger seat and said to myself, 'By the way, um, it's not really gonna happen for you until you're 59, but just hang in there?' I'd have turned around. Gone back to my dad's lumber company. Fifty-what? I didn't think I'd be alive at 59."
Get More Jeff Daniels Articles Here!
Part of the reason why Daniels didn't go for a more typical Hollywood career was because Marshall Mason and the playwright Lanford Wilson, who were his mentors at New York's Circle Rep Company theater, where Daniels was part of in the late 1970s, told him to aspire for artistic credibility. He explains, "I was told, 'You're not an actor, you're an artist.' I didn't know what that meant, but I knew it didn't mean going to L.A. and trying to be famous. It meant doing things that only good actors would try to do."
As he entered his fifties, Daniels saw himself playing the roles of eccentric older men — but that didn't end up happening. He explains, "I thought, Okay, I'm gonna be Gene Hackman. Well, that became difficult, because for the next three years you get asshole-father roles, just like in Squid and the Whale—but now you're the asshole father to a 26-year-old star who's making $10 million and can't find his mark" (the quote is not likely a shot at his Squid and the Whale co-star Jesse Eisenberg, who was only in his early twenties when they made the film and certainly wasn't paid $10 million).
So while The Newsroom has wrapped and Daniels has likely said goodbye to his Dumb & Dumber character Harry Dunne, it's clear that he doesn't plan on returning to underpaid indie roles. How many actors can say they have finally reached their peak at the cusp of 60?