Paul Dano has been seemingly talking to anyone who will listen about his latest film, Being Flynn, the adaptation of Nick Flynn's memoir Another Bullshit Night in Suck City, so give the 27 year-old actor credit for promoting it like crazy. 
For instance, he talked to Spinoff Online about acting in such an emotional film and how he manages to maintain his personal life during a long production process.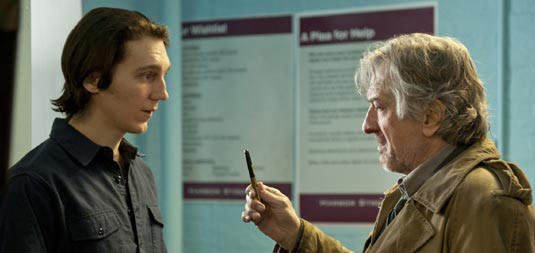 Though Dano has had emotional roles in the past — particularly his role in There Will Be Blood — he confesses that he found it difficult to move from emotional scene to emotional scene in Being Flynn.
He explains, "It was tougher than I thought on this one – it really was. I did a lot of work to get ready for it, but day after day, this was a tough one. But rewarding for that reason too – when you finish it, you feel like you went through something and you hope that's going to end up on the screen. I think once you're done with it you worry about shaking it off, but there's not a night-to-night concern of shaking it off."
He points out that acting is unlike jobs where you can leave your work "at the office," saying, "Acting is a very strange thing – your life kinda goes on hold. You disappear, you don't see your friends, you work such long days – if you're in a relationship, that can be hard for the other person. You've gone 12 to 14 hours every day and then on your one day off, you sleep all day. So usually it's a cleansing process once it's done. Then you get really depressed and sad and post-partum and you feel good and you feel bad at the same time. And then you have to sort of re-boot your system like a video game – you just wait for your life cell to just sort of go back to full so you can do it again."
However, it might be fair to say that Dano gets plenty of practice living very full days, since he lives in the ultra-busy Brooklyn.  He adds, "Yeah, yeah – I mean, my world's only crazy on days like today! [laughs]Yeah, I love where I live, and luckily I have some good friends there. Brooklyn is great for me. I love it. It's important, it's a part of who you are, where you live sometimes."
Being Flynn is now playing in select theaters.