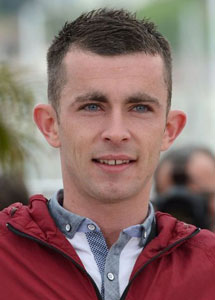 Before this year's Cannes Film Festival, nobody had ever heard of the actor Paul Brannigan.  That's because he didn't exist: though Brannigan was cast in the lead role of Ken Loach's whiskey-soaked comedy  The Angels' Share, he isn't a trained actor.  Appropriately for a film about unemployment, Brannigan was unemployed when he was cast in the film and, upon his return to Glasgow after Cannes, he still will be looking for a job. 
Brannigan was cast in the role of Robbie after writer/director Loach's co-writer, Paul Laverty, discovered him working at a community center.  After Cannes, Brannigan admits he will remain unemployed and will still be volunteering at the center.  He explains, "I do four hours a week football (soccer) coaching, and that's just the way it is.  There's thousands and thousands of kids like Robbie in Glasgow."
But don't feel too bad for Brannigan — though he might not have any roles lined up, his next film, Under the Skin, will be released later this year, and in that movie he had the opportunity to do a nude scene with Scarlett Johansson, something which many would gladly suffer unemployment for.  Then again, don't let your imagination run too wild: Brannigan confesses, "I took my clothes off — she didn't take her clothes off.  It was fun. She was an absolutely fantastic girl."
Still, Brannigan admits he never expected to land the gigs.  He says, "The first and second auditions they called me for, I didn't go. I wasn't really up for it.  Things were tough, I had no money, it was Christmastime, and I'd got a loan I wanted to pay back. I thought, well if I make a couple of hundred quid that will see me through.  Hands up, I would say to Paul — he saved my life. I'd nowhere to turn, I've got a kid, who knows what I'd have done for money."
Let's hope Brannigan doesn't remain unemployed for too long… either as an actor or otherwise!
via The Halifax Chronicle