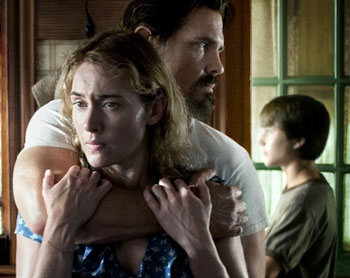 Kate Winslet is making another run this awards season with her latest film Labor Day, written and directed by Jason Reitman. The movie is based on a 2009 Joyce Maynard novel about an unexpected romance between a single mother and an escaped convict.
Winslet shares her screen time with Josh Brolin and 14-year-old Gattlin Griffith who plays her son. She talked with The New York Times about working with the teen actor and how she approached the role.
Griffith was apprehensive on the first day of shooting, so the British actress quelled his fears.
"He was terrified," she shared. "I just said to him, 'You're really nervous, aren't you?' And I said, 'If it's any consolation, so am I and so is Josh, and that — she used an off-color word — "over there, he's the most terrified of them all [referring to Reitman].'"
Winslet tapped into her motherly instincts to make the teen feel at home on set since they needed both an on and off-screen relationship.
She said, "I know this age very well. They have a billion questions every day, and they don't know who the hell to ask. I wanted him to know that he could ask me what was going on at any time."
The six-time Oscar nominee and one-time winner for The Reader, has had quite a magnificent career in the film industry. In fact, she's the youngest actor to have earned that many nominations by the age of 33.
She explained what type of roles appeal to her and why that formula works for her.
"I probably am more drawn to films that really delve deep into the human condition and relationships," said Winslet. "It's playing those roles that you get to see how odd everyone is. I do love that. There's no such thing as normal."
Labor Day opens in limited release on Christmas Day.