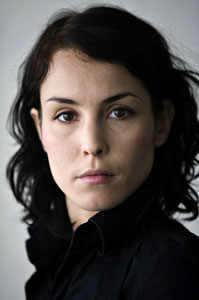 Although Swedish-stunner Noomi Rapace is best known for her role in the original adaptation of The Girl with the Dragon Tattoo, the actress is ready to move on from the part.  The role of hardcore hacker turned detective, Lisbeth Salander, in Stieg Larsson's Millenium trilogy has proved to be a career-making turn which has led to several parts in upcoming blockbusters. 
Rapace is more than happy to leave Lisbeth to Rooney Mara—the actress taking over the role for the American adaptation out this month.  In an interview with BlackBook, Rapace says, "I'm pretty sure that they will do something completely different with her."
Rapace was entirely dedicated to the role—one that required her to immerse herself in a draining world of abuse and violence.  Playing Lisbeth was like "you've loaned yourself to someone else," she says.  The process became an extremely tense period of time while the actress filmed all three movies (including The Girl Who Played With Fire and The Girl Who Kicked the Hornet's Nest.)  "I felt like she lived in me.  My Lisbeth was my Lisbeth.  I gave her my life and my soul for one-and-a-half years, and then I was finished.  I'm so done with her."  Shedding the character proved to be almost as difficult for Rapace as the process of actually playing Lisbeth.  After the last scene was shot, the cast and crew celebrated, while Rapace threw up in the bathroom.  She says, "My body was just kind of throwing Lisbeth out of me."  Since Rapace went under such a physical transformation for the role (including piercings and a mohawk), it took her a while to feel like herself again.  "I was like, I don't know who I am anymore!"
Now that Rapace is back, she has been working steadily in American films.  Sherlock Holmes: A Game of Shadows is premiering December 21, and she has also finished shooting the prequel to Alien called Prometheus, which comes out next summer.  Initially, Rapace was cautious about stepping away from independent films.  She was worried she might have to give up some of her creative freedom once Hollywood came calling.  "But I've been so lucky!  Those two movies have been amazing to work on, people have really embraced me.  I think I've been spoiled."
Rapace won't be forgetting where her career originated.  She still maintains that she would like to mix blockbuster films with smaller movies as well.  "I don't want to be stuck," she says.  With the kind of commitment she brings to a role, it's doubtful she won't be going far.