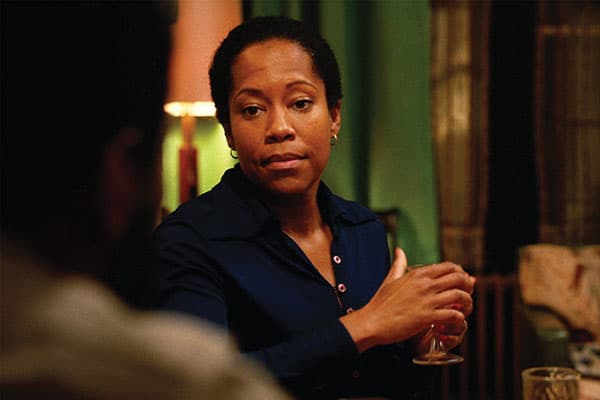 "I know people in New York are like, 'Theater in L.A.? Ha ha ha ha ha!' Well, it exists! And I am a product of it" – Regina King
Emmy Award-winning star Regina King won her first Golden Globe this year for her role in the acclaimed drama If Beale Street Could Talk. But King has been working as an actress on television since 1985 and in commercials and theater before that, so it has been a long road. In an interview with W magazine, King talks about her early days as an actress and what she went through in her career before landed her breakthrough movie role in John Singleton's 1991 Oscar-nominated film Boyz n the Hood.
Like most other actors, King had to start somewhere — and in her case, it was a fast food commercial. She recalls, "The first audition I ever booked was a McDonald's commercial. I had to be somewhere around the age of 10. And that was my first experience of the spit bucket, for when that quarter-pounder with cheese that tasted so good at 10:00 a.m., at 11:00 tastes like dirt. So you bite into it and 'Mmm!' Spit."
After that, King continued her career into another challenging area. She explains, "Actually, from there, um, I was doing a lot of plays in L.A. I went to this theater group called Cambridge Academy that was run by Betty Bridges, Todd Bridges' mother. And I know people in New York are like, 'Theater in L.A.? Ha ha ha ha ha!' Well, it exists! And I am a product of it… It was me learning, and I had the opportunity to audition for a play called 227 starring Marla Gibbs. When she and the writer sold that play to NBC, I auditioned for Marla Gibbs' daughter. I got the part 14 auditions later."
From there, King booked her first movie role and absolutely nailed her audition and from then on took herself seriously as an actress. She explains:
Boyz n the Hood was where it all started. John Singleton and I both went to USC, and he used to see me across campus. When Sony brought me in to audition, I just said, like, four or five lines to the casting director, came back later that day and auditioned for the director and producer. My acting coach always said, "Soon as you finish your audition, you get outta there. You don't try to hang out and try to get to know people. You did your job, go." So I'm trying to walk outta there as quick as possible, and I hear someone go, "Regina." And I just keep walking. Then I hear, "Regina King," and I'm like, "I gotta stop." I turned around and I remember it like it was yesterday: John was standing at the top of the steps, and he says, "You got it."

Now that moment was like, yeah, I'm supposed to be an actress. At that moment, I knew this is what I wanna do. This is the world I wanna be in. This is the culture I wanna be a part of. This is the community I wanna be a part of for the rest of my life.
More: How has Regina King Maintained a 30 Year Acting Career?