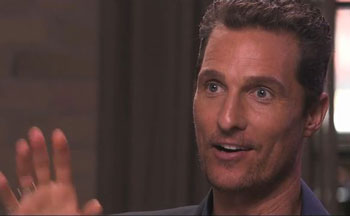 Here's a couple videos featuring Matthew McConaughey and Jared Leto talking about their new film, Dallas Buyers Club. I am really looking forward to this. McConaughey is on a spectacular roll the past couple of years and this will only add to it.
In the first video, McConaughey, Leto and Director Jean-Marc Vallee talk about why they wanted to make a movie based on the life of AIDS activist Ron Woodruff. McConaughey calls it a "bull ride" and how getting Woodruff's diary was the key for him. Leto, who plays a transgender person, says he talked to several transgendered people and how the whole process became really "special."
In the second video, McConaughey talks about his weight loss for the role and how hard it was to get the film made, Leto talks about the stereotypes of taking on a transgender role. Jennifer Garner also makes a brief appearance in the video as well.
Check them out below!