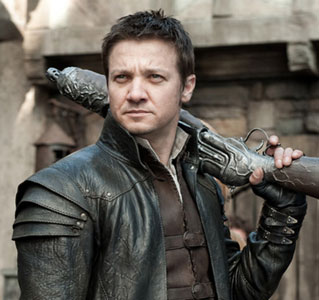 One one hand, Jeremy Renner is an action star who appeared in The Avengers and the fourth film in both the Mission: Impossible and the Bourne franchises.  On the other, he's an actor who has been nominated for two Oscars for The Hurt Locker and The Town.  However, it's often easy to guess which Jeremy Renner audiences will get in each film, and in the case of Renner's latest film — Hansel & Gretel Witch Hunters — it's an easy guess that it will probably be the former.  In any case, the film is about the titular fairy tale characters all grown up and now hunting witches with a variety of weaponry.
One obvious reason why it is the "action" Renner that audiences will get is that he explains that he thought doing the film would be fun.  He says, "When I read the script, my first thought was 'I can't believe this hasn't been done yet.'  It's such a great idea with so much potential… I thought it would be exciting to explore an amazing brother and sister bond inside a fantastical world."
He then adds (presumably with a playful smirk) a little bit about the siblings' character development.  He reveals, "He and Gretel have gone through an amazing tragedy.  They don't have parents, witches have tried to eat them and what Hansel has taken away is that you've got to take your personal anger and pain and do something good with it."  Hey, I know I would too if a witch or two tried to eat me.
The last piece of evidence?  Renner has a lot to say about the action scenes.  He says, "There's a lot of really arduous action in the film.  One of the big difference in this movie is that while usually heroes win all their battles, Hansel & Gretel get their butts kicked numerous times.   So in a way we had to face getting beat up every day!  But we also had a great time.   Tommy [Wirkola, co-writer and director] brought an incredible tone to the whole thing, a mix of serious and funny that I think gives the film the quality of a real adventure."
So yeah, action Renner it is.  Not that there's anything wrong with that!