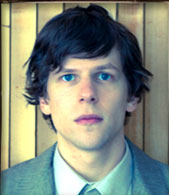 Almost a year and a half ago actor Jesse Eisenberg made an unexpected move by becoming a playwright, debuting his play Asuncion at New York's Cherry Lane Theatre.  However, the Oscar-nominated actor has no plans to quit being an actor… especially since he reveals to New York Magazine that he already almost did so prior to his Social Network success.
Eisenberg admits he felt disillusioned with acting right before his breakthrough role because he was worried about getting "stuck" starring in mainstream films like Adventureland and Zombieland.  He says, "I became very self-conscious. It just felt very close. It seemed like it could be a popular thing, and I was just overwhelmed." 
However, what he did instead was change his approach to acting.  He explains, "I do something different now.  I don't concern myself with thinking ahead to the finished product. I focus more specifically on what the character is experiencing. Once you relieve yourself of the very arbitrary and always punishing pressure of what an audience is expecting you to do, acting becomes a lot more fun and pure."
Eisenberg continues to act, including starring his second play, The Revisionist, which is currently running at the Cherry Lane Theatre through March 31.