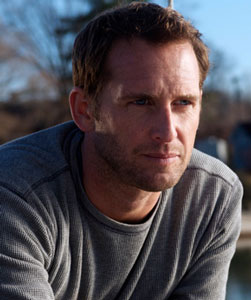 While Josh Lucas might be best known for his role in 2000's American Psycho, the Arkansas-born actor has kept himself busy appearing in films like A Beautiful Mind, Poseidon, The Lincoln Lawyer, and J. Edgar.  He has also appeared in a number of smaller, independent projects, including Hide Away, an introspective drama which is now in limited release.
The story for Hide Away actually began its life as a poem.  Lucas explains to the Wall Street Journal that its unique origins appealed to him, saying, "That was the challenge of it. It was a 75-page treatment/poem. It was something that had basically no dialogue, it was more of an outline in a way. The script was designed to take advantage of nature and what was going to happen to us. It was a passion project in every way."
In fact, because of the small size of the project Lucas points out that it was very much a collaborative effort.  He explains, "This was a rare challenge in filmmaking, and it was such a filmmaking experience. Had we had a lot more money and a lot more crew, I would have lived alone on the boat. But my experience was quite the opposite of isolation. We would meet each night and figure what we could do tomorrow. For example, the blizzard became the central breakdown. It was not in the script, but we knew such a gift would become the darkest part of his breakdown."
Lucas also served as a producer on Hide Away, and it was a role that he enjoyed immensely.  He says, "I get more joy out of things like producing and such than I do in acting. I like building a project and putting the people together. I like the dynamics. In fact, it has made me much less self indulgent as an actor. When you are acting it is an easy to not see, isolation is one of the most effective tools as actor. All you are worried about is your performance."
Hide Away is playing at Laemmle's Music Hall 3 in Los Angeles through June 7. It is also available on Video on Demand.