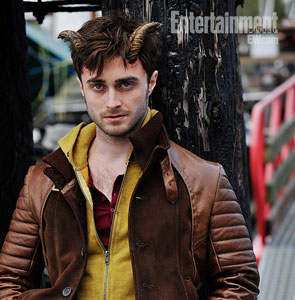 As a child actor in one of the most recognizable roles of the last decade, Daniel Radcliffe is boldly taking his career in new directions. With three films currently premiering at the Toronto International Film Festival, the 24-year-old actor is growing beyond his Harry Potter days.
In an interview with The Associated Press this weekend, Radcliffe talked about his acting strategy post-Potter.
He revealed, "Take chances. You have to make films based on your own instincts … I have to make the kind of films that I would want to see."
His recent role choices showcase his range and his willingness to go into dark places with his acting career. It's not about shedding his boy wizard image, it's about finding more interesting characters to play.
One of Radcliffe's TIFF entries includes the film Horns where the British actor plays a man suspected of murdering his girlfriend. He wakes up one day with a pair of horns growing out of his head.
With unusual subject matter in Horns, the Harry Potter star explained his movie role selection.
He said, "It's not so much a process or a strategy. It's about what scripts you get sent. So when I read Horns, I was immediately passionate about it, and I wanted to play this part and knew I could have an interesting take on it."
A turning point in his career was during his Harry Potter days. He chose to play the role of Alan Strang in both the West End and Broadway revivals of Equus. Not only did the then 17-year-old appear naked in the play, he also tackled challenging violent and sexual themes.
However, Radcliffe isn't concerned with how fans react to the tough subject matter he dives into.
"What my fan base wants me to do is not the most effective way of forging a career, or certainly not the most honest way of doing it. You got to remember that I did Equus and that was a pretty big deal," said the film star.
He continued, "What you got to remember about the Potter audience is that they grew up with me, and a lot of them are now my age or older. They want to see dark, challenging material as much as anyone else does."
In addition to Horns, Radcliffe is also premiering the romantic comedy The F Word and  the film Kill Your Darlings at TIFF.