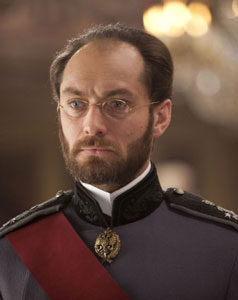 Jude Law was ready to take on a challenging part in the new adaptation of Tolstoy's Anna Karenina, in which he plays Karenina's husband, Karenin.
"[It was] intense, but in all the best ways.  It was territory I haven't really played in before, and characteristics I haven't really investigated, and these were really strong character traits," Law said in an interview with Moviefone.  "The stillness of him, the seriousness of him, the weight of his thoughts."
Law was also interested in the role because of the director, Joe Wright, who intertwines aspects of theater into the film.  This allowed Law to see the project as more than just another retread of the novel. 
"Ultimately, when you're reinterpreting classics…say you're redoing Hamlet…you eventually get to the juncture where you ask, 'What's the point?  What am I bringing to this?'  And I think Joe answers that, undeniably," Law said.  "He embraces the medium, and we, the cast, are the willing band around him.  I enjoy working in the theater anyway, so to be given a very constructed universe in which to portray a character…I found it liberating, in a funny way."
Anna Karenina is in theaters now.