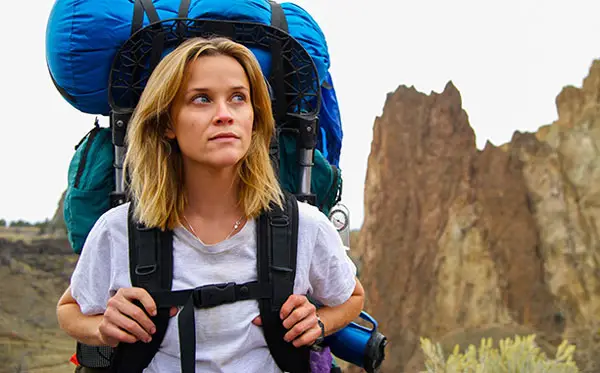 Reese Witherspoon is taking a risk in her acting career. After years of playing America's sweetheart in romantic comedies, the actress is tackling a tough role in Wild. She plays a heroin-addicted woman who backpacks on a soul-searching thousand-mile hike.
Witherspoon explained how hard it has been to get a gritty role because she's stereotyped by studios with a wholesome reputation.
"You have to understand, for someone who's been doing this for as long as I've been doing it, it's like, 'Oh my gosh, finally!' Finally, it's so exciting to be honest about things," she explained. "I developed it with my own money and an incredible producing partner, and then we went to the studios afterwards, because I did not want to hear, 'We don't want to see Reese doing that' or 'We don't want to include the sexual scenes.' Not that studios are bad — it's just that sometimes when things go through too many filters and too many notes, they become distilled into something they weren't from the beginning."
The shoot wasn't an easy one for the 38-year-old mother-of-three. The physicality of the role was a challenge.
She explained, "By far, this is the hardest movie I've ever made in my life. I didn't hike a thousand miles, of course, but it was a different kind of physical rigor. I'd run up a hill with a 45-pound backpack on, and they'd say, 'Wait, that backpack doesn't look heavy enough. Put this 65-pound backpack on and run up the hill nine or ten times.' We literally didn't stop shooting in those remote locations — we wouldn't break for lunch, we'd just eat snacks. No bathroom breaks. It was crazy, but it was so wonderful. It was complete immersion, and I've never felt closer to a crew. We literally pulled each other up the mountains and carried each others' equipment."
The daily obstacles put Witherspoon in an uncomfortable position many times on set, but it was well worth it to her.
"Half the time on set, I feel like I'm hanging on by the seat of my pants and I don't know what the heck I'm doing. I basically have a new job every three months where I'm like, "Uh, am I qualified to do this?" And I find out during the process whether I am or I'm not. This film was really a gift, and it's exciting to not know if you're gonna make it, or if you're gonna break down in the right place. Really interesting creative things come out of that process," said the Election star.
After her Walk the Line Oscar win, Witherspoon's career has wandered a bit. With Wild, she feels like she's finally on the right path.
"For a couple of years, it was hard for me. I think I was a little lost — I didn't know what I wanted to do or say, and I can see from the work that I was searching. But about three years ago, when my producing partner and I started our company, we had a purpose: We wanted to bring forward more female characters in film and have more interesting, dynamic parts for women. There's a clarity to our work, which is great. It's nice to feel back on track."
Wild will hit theaters Dec. 5.
Via Vulture