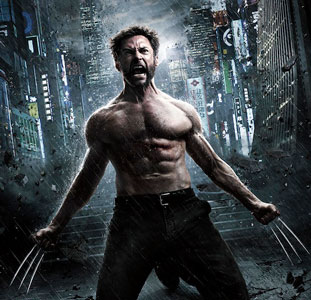 The Wolverine will be the sixth time Hugh Jackman will be playing the quick-tempered Marvel superhero on screen (and he's already signed for a seventh time in X:Men – Days of Future Past), and most fans wouldn't have anyone else play Logan at this point. 
Part of the reason for that is that Jackman is completely dedicated to the role, not only adopting Logan's furious character but also whipping himself into ripped superhero shape. He revealed to Collider how he manages to pull off both.
It's curious how Jackman, who is generally regarded to be a nice guy in the industry, can perfectly pull off Logan's angry, surly character.  Jackman shrugs this off, saying, "I'm an actor, man.  Never trust an actor, whatever their energy is.  I suppose you guys see that side of me, but I'm sure there's plenty of people close to me who've seen the other one.  I think if we're all honest with ourselves, we all know that internal rage.  I think one of the things I always loved about the comics was this idea that this character, when he goes berserk, that white, blind rage makes him incredibly powerful, but it's also a great flaw.  It's almost like he loses consciousness of what he's doing.  During that he can do great damage.  I can remember that vividly at times.  Usually, luckily for me, that took place on a rugby field, where it's somehow sanctioned, all this violence.  On some level, it has to exist.  On many levels, you have to imagine it.  That's why I got in this business.  There's many, many things that could get me to that kind of rage."
One of the many things that remain consistent in Jackman's portrayal of Wolverine are his muscles, which Jackman packs on every time he plays the character.  Jackman explains the regime as grueling, saying, "It gets hard, let me tell you.  Basically one of the great things about having the preparation is I really probably started months ago, when I first thought we were about to gear up and go.  And this year, I've been eating incredibly strictly probably since January.  I've changed my training for this.  Over the years, I've got smarter with it.  Unfortunately, I realized I needed to train a little more to get what I wanted for this, which was a leaner, more animalistic look.  And I want to be as big as I possibly could be, which is hard for me because I'm skinny.  So I started eating six, seven meals a day from January and training about three hours a day."
That's funny.  I know a lot of people who eat six or seven meals a day, but they certainly don't look like Jackman.