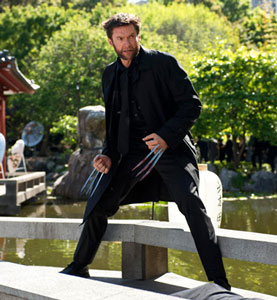 At this point, Hugh Jackman has proved he'll undergo any kind of physical torture for a role.  For his role as Jean Valjean in last year's Les Miserables, he basically starved himself.  His next part is the sixth film appearance of his X-Men character in The Wolverine.
In order to get into character, Jackman subjected himself to the dehydration diet.  "Trust me, that really pisses you off," he said in an interview with The New York Post.  "I wouldn't recommend that for everyone."
Then he followed up with a cold shower every morning, because it was a good "physical trigger" for anger.  "That kind of zone you need to be into with that intense training is similar to the state that Wolverine lives in all the time," Jackman said.
Although the actor has created a varied and successful career for himself (including an Oscar nomination for Les Miserables), he doesn't want to close the door on Wolverine just yet.
"I don't want to tease you and say this is the last one," the 44-year-old said.  "But my basic philosophy is that I go movie-to-movie and see how it all goes, but if I don't feel I have anything new or different to offer or the story doesn't progress in some way, then I won't be doing it."
The Wolverine opens Friday, July 26.