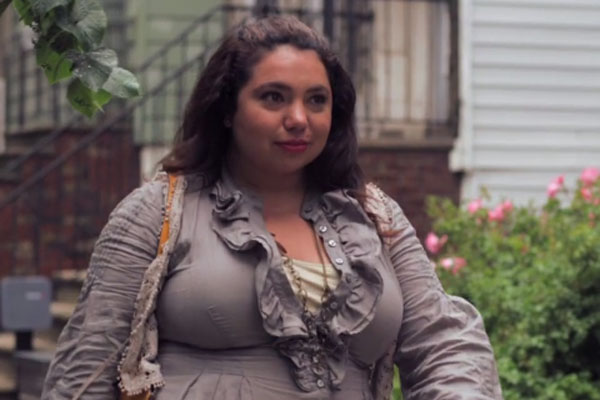 It's always tough making your way in this business but actors who take their careers into their own hands are the ones who will always get ahead. Take, for example, actress Ariana Bernstein, the star, producer and co-writer of Delusions of Guinevere.
The film, about former child star Guinevere James, who now at 29, is washed up, overweight and obsessed with her former costar who's become an A-lister, is the first film Ariana has not only starred in but it's the first film she's been in period. She's worked behind the scenes on several films, acted in theater and summer stock and "continuously" takes acting classes but she was always working. She started writing the film and the pieces fell into place.
She's got an incredible perspective on the business of acting and also has some great advice. In the interview, she talks about writing the film, her role as producer, her time interning with CBS's Casting Director Amy Herzig and much more. And you'll definitely want to check out her three tips of do's and don't of casting and watching a young Jessica Chastain in the audition room.
Delusions of Guinevere opens in Los Angeles November 14th
How is it to star in a film you've written and produced? Is it as crazy busy on-set for you as it sounds? 
Ariana Bernstein: Exhausting and exhilarating. There is an enormous dichotomy between the job expectations of an actor and those of a producer and while some of the time balancing both was a struggle, other times the differences complimented each other quite nicely. And in some unexpected way, the dual roles informed one another.
As an actor, a big part of my job is to stay present in each scene and focused on the task at hand. You're creating a false reality, but if you're doing your job well as an actor then you're 100% committed to the reality that you and your scene partner(s) have created. For me, being in an emotionally charged scene required that I relinquish all sense of control so that I could access that deep vulnerability my character felt. But as soon as I heard 'cut' I had to completely drop those emotions and regain my composure to manage the daily production logistics which were definitely based in reality: Were we on schedule to make our days? Who do we contact about the fire alarm continually going off despite there being no fire? What do we do about the drunk woman trying to sneak into one of our locations and then threatening our 1st AD when she doesn't leave?  Many planned and unplanned occurrences happen on each film shoot and as a producer you have to be ready to handle anything and everything thrown your way. You have to manage hundreds of moving parts simultaneously, and plan for the worst but hope for the best. If the producers are doing their job well, most actors aren't privy to any hiccups that a production will ultimately face.
And a big part of a producer doing their job well is hiring the right team – a team full of craftsman and managers to help the process run as smoothly, and hopefully harmoniously, as possible. But balancing a fictional reality that feels completely authentic in the moment when you're wrought with emotion and crying on a bathroom floor and then having to switch gears in the blink of an eye to being in total command and watching the monitor to see if anything with a logo accidentally made it into frame, is a great challenge, but one I encourage interested parties to take on with gusto. They are long days, in my case 18 hours, 7 days a week for 6 months straight without a day off  – and that's just pre-production and principal photography.  But if you're like me, and I know others are, and you feel this passion in your bones, then the exhilaration outweighs the exhaustion even when you're getting so sleep deprived you can't remember your own name.
As a writer, my job was pretty much done before we started production, so that was less of a challenge as I didn't have to balance writing and acting so much. There were times I would be acting in a scene and not feel comfortable with the words, so I was lucky in that I could just run it by Joanna who happens to be the director, one of my co-writers, and producing partner. And in those cases I would just ad-lib or we'd work together to come up with more relatable dialogue.
When you were writing the script, was it always the plan that you would play Guinevere? 
Ariana Bernstein: When I originally created the concept of "Delusions of Guinevere" I did have it in my mind that I wanted to play her. But I had doubts in my ability. Though I had always acted in theater and summer stock and I continually took acting classes, I'd never been in a movie before, let alone had a lead in a film, let alone acted in a film I also produced. I actually struggled with whether I was up to the challenge for a whole week into filming, when it was way too late to back out and when I sort of just realized.. okay, I can do this. I had this irrational fear that the sound mixer, of all people, was going to hate my performance, but during the first week of filming, we did one of the most emotional scenes, and our sound mixer, who happens to be a lovely person, complimented my performance. That was a huge relief and gave me the confidence to take more risks and be bolder with my choices.
Though, I had it in my head, I didn't tell any of the other writers at the time, because I didn't know if I would actually end up being in it. It was a pipe dream. But it worked out well, as Joanna (one of my co-writers) evolved into my producing partner and director and I evolved into the lead actress. We were happy as co-writers but clearly not content to just leave it there, and one day Joanna and I turned to each other and she said: I want to direct this. And I said: I want to act in this. But since Joanna had never seen me act before, she made me audition for the role. That process of the producer auditioning for the lead role in their own movie, was a struggle but was also hilarious. I swallowed my pride, walked into the casting office and was greeted by the Interns and PAs that I hired, who led me down a hallway, in my Dad's office (where we held auditions on weekends), then into the audition room where the director, production manager, and the director's friend she brought in as a second set of eyes, were sitting. Then I auditioned for a part I co-wrote; it was truly unconventional.
Despite being the producer, I do feel like I earned my stripes for that role. Joanna was adamant that the process be as fair as possible and thus I auditioned multiple times. It feels weird to talk about this because I know how preposterous it sounds, but it really did come down to the basics: me doing the work that had to be done and walking into the audition room with as much confidence as I could muster. And owning the dialogue and being vulnerable and present in the moment.
Obviously, in the end, I had some say casting this role – but only after I proved myself a worthy candidate.
How long has it been from the time you started writing the film to the time it premieres?
Ariana Bernstein: We started writing 'Delusions of Guinevere' in August of 2011 and it premieres November 14th, 2014. While that might seem like a long time, seven years is actually the average length of time it takes for most films to go from script to screen.
We had a pretty small production budget and lots of donated locations, so we were able to move through development a lot faster than most productions, as we didn't have a such significant amount of equity to raise. But we took our time in pre-production and planned, planned, planned. That's the most important part of filmmaking and the aspect that makes or breaks a production.
I think our timeline was pretty solid and doable. But when you plan on producing, you know it's going to be years worth of commitment to see a project through. And just because it's out in the world, doesn't mean the work is done. It's just that all of the hard work you've done thus far, is finally seeing the light of day.
You interned as a casting assistant for Amy Herzig at CBS and you were also the casting director for this film. What are some of the acting do's and don'ts you saw when they came into the room?
Ariana Bernstein: The most important dos and don'ts, funny enough, weren't really about the acting, but about interactions with the casting directors and about the preparation you have to do before you walk in the room. Despite not being specific 'acting' examples, all of my take-aways are fundamental to letting yourself have a great audition. Working for Amy at CBS provided a crash course for me and the most important lessons I learned for the actor are:
Be prepared. They don't care if you got the sides last week or you got them five minutes ago. And they don't want to hear about it. If you got the sides five minutes ago, and you're not good at cold reads, that's unfortunate, but nobody wants to hear excuses or explanations. Casting directors are busy and have their own problems. You want them to remember you, but not for the wrong reasons. Nobody likes their time being wasted, so preparation is key- whether it's the five minutes before or the few days before, prepare as much as possible and always walk in with confidence.
Be respectful. When I interned at CBS casting, there was a sign telling the actors not to shake hands with the casting directors– it was pilot season, and thus the dead of winter – and they didn't want to get sick. I remember one specific incident of a fairly well known actress coming in, coughing into her hands, and then promptly and almost aggressively reaching for one of the casting directors' hands to shake. This particular casting director was so angered by that, she didn't want me to schedule this actress for anymore auditions. So whether it's not shaking hands with someone when specifically asked, or silencing your cell phone, or whatever the case may be, it's crucial to be respectful. You don't want something as trivial as receiving a text message to jeopardize future acting jobs.
Be Engaging.  Hands down, the best audition I've ever seen in my life (and I've seen a lot) was Jessica Chastain – way, way, way before she was Jessica Chastain. This was many years before she ever even made a movie but I knew she was destined for big things the second I saw her. She was polite, charming, kind, prepared, present, respectful and tremendously talented. But above all else, she engaged the room. You could tell she had been running around all day, from audition to audition (I believe her agent called and told us she had six). She was sweaty and her hair was a bit disheveled, not what you'd expect from a future movie star, but none of the physical mattered because she left everything behind her. She engaged the room, making us feel at ease, comfortable, and confident with our job, which in turn, made her job that much easier because we were now on her side. I don't even remember what she was auditioning, for and clearly she didn't book the part, but she had a lasting impact. And just because you don't book that job, you never know who's going to remember you in the future – for the right reasons or the wrong reasons. So make every audition count. Come into the auditions you're dreading with just as much focus and determination as the ones you're so excited about that you lose sleep over. You never know who's in the room or who will see that tape, which could one day make your career.
You've worked behind the scenes on numerous films, what is the one thing you learned that you applied to your own film?
Ariana Bernstein: Planning and preparation. I can't stress enough how important pre-production is. The more focused your plan and the more contingencies you account for, the more you can enjoy the creative aspects and the magic of filmmaking.
Part of the planning process means hiring the right crew; that is crucial to any good film. Be it the production manager or the production designer; all have to excel. One weak person can drag down a whole team. Filmmaking is one of the most collaborative mediums I can think of. And it's like a house of cards – every job is dependent on every other job being done, and being done well. It's a delicate balance and a fragile space, so make sure to hire the right people who will bring their own creative vision, professionalism, and good energy to the team. It will truly make you and the film look that much better.
Another aspect to not overlook is hiring a lawyer or a business affairs professional very early on, to guide you in the business and legal realm. There is a ton of legality to making a film, especially if you want to procure E&O insurance for distribution. Making sure you're clear about what you need from a legal standpoint is of the utmost importance and it would be impossible to know everything to account for without an entertainment lawyer to guide you.
After it's all said and done, would you do this all again?
Ariana Bernstein: In one word: Yes. I've learned so much by working on 'Delusions of Guinevere' for the last three years, that I would do it again, but differently. Though writing, acting, and producing on the same project was just about the most creatively fulfilling and rewarding experiences I could have imagined, I don't know if I would do all three again simultaneously on the same project. I love to write (I'm almost done with the first draft of a script about journalists in the Middle East during the Arab Uprising that I'm very excited about); I love to produce (I have a project I'm in the process of optioning); and I love to act (that has taken a back seat, while I finish my producing duties for 'Delusions of Guinevere). I love them all equally, but I think I love them separately.
If the right project comes along and someone hires me to do all three, I doubt I would turn down that opportunity, but I'm not sure I would ever spearhead a project where I'm responsible for all three again. But I didn't think I'd ever do it once, so who's to say what the future holds. It remains to be seen.