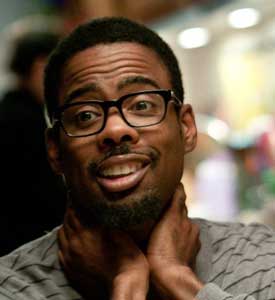 Don't worry — Chris Rock is still funny.  Sundance film 2 Days in New York — a sequel to actor/writer/director Julie Delpy's 2 Days in Paris — finds Rock's character dating Delpy's character and surrounded by the insanity that often comes with family.
Although it is a comedy, the stand up superstar plays the film's straight man.  It's a departure for Rock, who tells New York Magazine that a departure from the normal is exactly what he's been looking for.
Rock admits that some of his less-than-stellar films in the past are the result of awful scripts. As for 2 Days in New York, he says, "I was just happy to get a good script. Most scripts you get kinda suck, especially comedy scripts. 'Hey, I have something! It's not funny. Could you make it funny?' That's most comedy scripts. And I got this script and it was a real character, and he had real issues, and I'm a big fan of Julie. I'm like, 'Yeah! Let's do it.'"
So what type of scripts does Rock usually get? Rock says that although he often stars in films, he understands that roles for black comedians are few and far between.  "Comedy scripts are … you know … what are most black comedians? Either you're a cop or you're a woman. You're in drag. These weird, odd, kind of … you're fish-out-of-water. You know. You're the funny cab drivers. You're the funny coat check guys."
Still, despite Rock's appearances in more serious comedies like 2 Days in New York and Broadway theater like The Motherf—r with the Hat, Rock still strives for a well-rounded career.  He explains, "I just want to act. I want to have a rounded career, you know what I mean? So I can do something like Grown-Ups, or I can do a documentary, or this movie. Do some stand-up. Direct. As long as people let you do stuff. But the cool thing about this character is, he's a real character, and he's a grown-up. It's weird, I'm 46 but the parts I get offered are not grown-ups."
Ultimately, Rock believes he can bring a lot to the table to help a film.  "I can help sell a movie. I'm good at helping to sell a movie," he says, showing that he's not only willing to expand his own acting abilities but to do so in such a way to help sell a film to his fans.