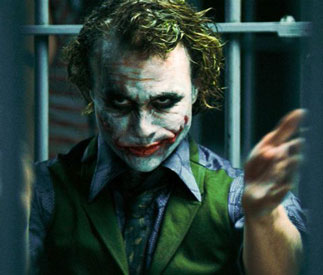 It has been said when the late Heath Ledger got into roles he really got into them.  And when he portrayed Batman's arch-villain The Joker in The Dark Knight, for which he won a posthumous Oscar for, Ledger went even deeper, including keeping a "Joker diary."
Ledger's father Kim showed pages of his Joker diary on the German documentary series Too Young to Die and discussed his son's role.  Ledger locked himself inside a hotel room for weeks in order to study the Joker's criminal and psychopathic mindset.  The diary is filled with pictures and handwritten notes, including pictures of Alex DeLarge from A Clockwork Orange and clippings from Batman comics.
Kim points out that one scene in particular was very personal for Ledger, saying, "The hospital scene is interesting because when he was a kid, his sister Kate liked to dress him up as a nurse. He was really funny like that. He also was in the movie."
In a particularly poignant moment, "BYE BYE" is scrawled over the final page of the journal and Kim remarks, "It was hard to see this."
Ledger was found dead of a drug overdose in New York City on January 22, 2008.