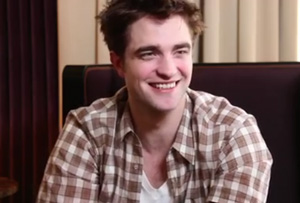 In a recent sit-down with USA Today, Twilight star Robert Pattinson opened up on a variety of subjects, including everything from elephants to the music he's been listening to lately.
"If I could keep an animal, it would definitely be the elephant," said Pattinson, who plays the male lead in the film adaptation of Water for Elephants, currently in theatres. "It's not just a pet, 'cause you could just lie undernearth it and it's basically a house, too." As for his real-life pet, new rescue dog Bear, Pattinson laughed, "The hardest thing to teach my new dog is to not be afraid of doors and not to hold his pee in too long."
Moving on to matters of his career, Pattinson also addressed rumors that he'll play guitar hero Jeff Buckley, who died in an accidental drowning at the age of 30 in 1997. "I really like Jeff Buckley. I'm not sure if I'm necessarily the right person to play him. I would love to be able to sing like him and I would love to be able to play guitar like him, but I don't know." James Franco is also reportedly a contender to play the musician.
The 24-year-old actor also name-checked friends Marcus Foster, Bobby Long and Sam Bradley, as well as The Pointer Sisters, as those musicians currently filling up his iPod.
Video after the jump.